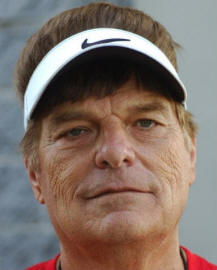 After seven years of building and stabilizing the football program at Sequoyah High School, coach Bill Satterfield has decided to hang it up.
Satterfield, who first arrived at SQHS in 2008, notified Monroe County Director of Schools Tim Blankenship of his decision Monday. The job opening for the football coaching position was posted on the school system's website Tuesday morning.
Attempts to reach Satterfield by The Advocate & Democrat were not answered as of Tuesday afternoon's press time.
The coach retires from Sequoyah with a 32-44 record at the school, with many of those losses absorbed in the early years building the program back up from the ground.
Under his guidance, the Chiefs made the playoffs four straight seasons from 2010-2013. Sequoyah's 6-6 record in 2011 had been the program's first non-losing season since 2003.
In addition to coaching football, Satterfield was also Sequoyah's athletic director through the 2012-2013 school year, and the school saw several other sports, such as baseball and both basketball programs, on the rise during that time.
Satterfield had initially decided to retire in early June 2013, but returned to his coaching position about three weeks later. The ensuing 2013 campaign was Sequoyah's best this century, a 9-3 season that went up to the second round of the TSSAA Class 4A playoffs.
"Coach Satterfield brought consistency and stability not just to football, but to the whole athletic program," said Sequoyah athletic director Steve Hall. "The football program has had more success in the last seven years than any other time in Sequoyah history. The athletic program has had more success in the last seven years than any other time in Sequoyah history."
Hall has known Satterfield since the first head coaching job of his 42-year coaching career in 1977 at Vonore High School. Hall had played on Satterfield's first teams there.
"I was fortunate to be part of his first win," Hall said.
After his start at Vonore, Satterfield moved on in 1982 to Greenback, where he experienced the zenith of his career leading the Cherokees to the 1987 Class A state championship. He also got the football program at Knoxville's Grace Christian Academy started before coming over to Sequoyah.
Satterfield, who was elected into the Blount County Hall of Fame in 2013, retires with an overall career record of 226-120.
"He started a winning tradition at Sequoyah High School, and he will be missed," said Sequoyah principal Gary Cole about Satterfield.
And to preserve that tradition Satterfield sparked at Sequoyah, Cole expressed the need to be particularly selective in hiring his replacement.
"With the tradition that has been started here at Sequoyah in the last few years, we want to be very picky and very discerning in the person that we hire," Cole said. "We want someone to build on what's already there, someone with a vision, someone who understands Sequoyah football in particular. Someone with energy and enthusiasm, and someone who will take Sequoyah football to the next level.
"We want to move as quickly as possible, but we want to be very meticulous in the people we interview."
Whoever steps in for Satterfield will be greeted by a Chiefs team that returns 16 seniors from last year's rebuilding 3-7 campaign and is set to play in a new region with teams from Chattanooga and Cookeville.