Race to be Next Codes Enforcement Officer, Field Narrowed to 6!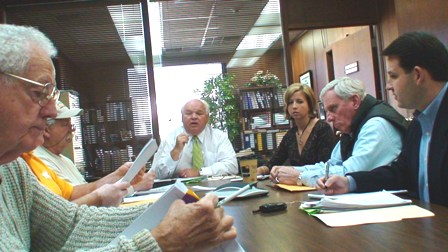 By Pat Hunter
A job opening was created after Ms. Deanne Bogus resigned as Lenoir City Building Codes Enforcement Officer, shortly before Christmas. Then, the Lenoir City Personnel Committee met to discuss, whom to hire, would it be an "Insider" or "Outsider"? Perhaps, a compromise is in the works.
The Personnel Committee met again on Jan. 21st, in the backroom conference meeting room at Lenoir City Hall .
Newly appointed Bobby Johnson Sr., presided as Chair of the Personnel Committee meeting. Also in attendance were Councilman Mike Henline and councilman Buddy Hines, Mayor Matt Brookshire, David Denton, interim Lenoir City Building Codes Inspector and Lenoir City administrator Dale Hurst, staff member and two members of the public. The media was not present.
The Personnel Committee reviewed a packet of applicants and memos, 28 applications in all. The field was quickly narrowed down to 6 applicants.
Bobby Johnson Sr. posed questions to David Denton. Do we have to hire somebody immediately that's certified? Can we look at other applicants and have a year? What's the construction situation is it pretty bad?
Denton offered his advice, hire somebody that's certified that could hit the road running because allot was going on and more construction was expected in the spring. "You run into allot of problems if someone's out there that doesn't know what they are doing, Denton concluded.
The Committee will interview applicants that are certified in building codes. Comments were also made about hiring a part-time person to assist the Codes Enforcement Officer. During the next budget period, the Personnel Committee would consider hiring a part-time employee from the list of applications. The part-timer would not necessarily be required to be certified but could eventually work toward certification.
Mayor Brookshire added his comments to the discussion. Brookshire expressed his desire to hire someone with a similar background and issues facing Lenoir City including building permits, storm-water drainage issues and someone that could work well with issues concerning the Better Building and Housing Appeals boards. Brookshire also spoke about the numerous complaints, which he received regarding erosion issues from Allenbrook property owners.
Allenbrook is a subdivision located off Harrison Rd. (Jones Farm) plagued with numerous drainage and erosion issues. A lawsuit was filed and settled against a builder alleging numerous code and drainage issues, a couple of years ago. Lenoir City adopted building codes over 2 decades ago.
Several Committee members selected certain resumes from the stack of applicants, certified in codes enforcement. Mayor Brookshire requested that his candidate be placed on the list of candidates to be interviewed. The Personnel Committee was concerned about disclosing the names of the candidates and some thought that employers might retaliate.
The Mayor requested that interviews take place next Monday, January 28th at 3:30PM at Lenoir City Hall.
Initially, the Personnel Committee hoped to make a recommendation and seek vote approval by the entire Lenoir City Council at the Jan. 28th meeting. Don't be surprised if a recommendation is made that evening by the Personnel Committee. This administration is known to add important city business to the agenda at the spur-of-the-moment.
The inspector's proposed pay scale would initially be in the range of $45,000 - $48,000, with subsequent evaluations and pay increases. Lenoir City offers generous benefits including a 401K plan, holiday pay and insurance benefits. Lenoir City pays 100% of an employee's insurance package. After the completion of a satisfactory probation period, Lenoir City will offer a contract to its new codes enforcement officer. Lenoir City offers a contract to its entire department heads.
Current Budget Lenoir City Codes Enforcement department.
(Both Councilmen Bobby Johnson Sr. and Mike Henline concurrently serve as Lenoir City School Board members. Bobby Johnson, Jr., serves as Chairman of the Loudon County Board of Education.)