Last week County employees, officials and citizens arrived at the County Office Building to find the main entry door locked and a sign posted on the door directing them to a different entrance. With all the important issue facing Loudon County, the number one issue for the newly installed Mayor, was to begin restricting access to County facilities and records. Arp has also issued an edict requiring up front payments to gain access to "public records." Click here to read edict. This is of course in total violation of the state open records laws, rulings from the Tennessee Supreme Court and the State Attorney General Opinion. Click here to read Attorney General Opinion.

Apparently under the Arp regime the single most pressing issue facing the County is prohibiting the public from gaining access to public records. Makes you wonder what has suddenly become so important that Mr. Arp would break the law to keep his little secrets. In a recent interview with the Knoxville News Sentinel, Mr. Arp made some of the most outrageous and disrespectful statements toward the citizens of Loudon County. Click here to read the article. In the article Arp states "They're just being nosy,'' referring to citizens requests for public records. Then he goes on to say "It's something we want to know; what they want, and they have to put it in writing." I would say Mr. Arp is the one who is being nosy. It's really none of his business what records the public wants to see. After all they are the publics records.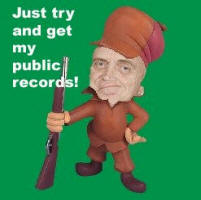 You can't blame Mr. Arp for being gun shy about public records. After all it was public records that I used to expose the fact that Mr. Arp had subbed out a large portion of his (assessor) office duties to a private company spending hundreds of thousands of dollars of tax payers money unbeknownst to the Commission or budget committee. It was public records I used to expose the fact that one of (assessor) Mr. Arp's employees had retired and been replaced with a new employee then rehired as an illegal contract employee. This cost the tax payers over $10,000.00 before the Commission put a stop to it. It was public records that I used to expose the fact that Mr. Arp was continuing to employee, unrestricted, an individual who is under grand jury indictment for theft and and DUI. It was public records that I used to show that Mr. Arp had received a campaign contribution from an employee of the private company hired to manage a portion of his office mentioned above. It's understandable that Mr. Arp has no great love for the open records laws. Alas, nothing he can do about it. Even he has to obey the law, like it or not.
I hope the Commission will quickly rein in Mr. Arp's out of control actions. The commission needs to remind Mr. Arp that they, the Commissioners, are the authority, and not him. His job is to carry out the direction of the Commission not the other way around. After all he was installed as County Mayor, not County King.
-v-