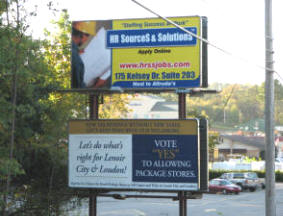 Well, our local liquor loving trio, Ed Bell, Dr. Barry Gordon and John Tuck, are working hard to get the community's help in getting their liquor store referendum to pass in the election. As I told you in the last article, Liquor And Liars, they have absolutely no problem with lying to people in hopes of achieving their greedy scheme. These guys have already shown that lying to the elderly is no problem for them. Now they have put up a couple of billboards trying to convince people that liquor stores would be the right thing for Lenoir City and Loudon, at least that's what they would have you to believe. In reality the only ones who would benefit would be our local liquor loving trio. But apparently they didn't have the guts to really tell it like it is. So I've done for them.
Come on guys, be big boys and stop hiding behind lies and deceit. Tell it like it is. All of you are wealthy and greedy and you just want more money. You could care less about the tax revenues of our local governments or the people.
According to the state, the tax on one big bottle of booze is about fifty cents. You boys will have to sell a lot of booze to generate enough tax to off set the added expense you will cost our local officials. According to the Tennessee Drug Awareness Council, for every tax dollar raised by local, state, and federal governments from the sale of alcohol, $8.47 is spent trying to alleviate the alcohol-related problems. From January 05 thru January 06 the Loudon County General Sessions Court dealt with 6277 alcohol related offences. Calculate those costs.
There are no benefits to adding liquor stores to our community. Liquor stores are second only to convenient stores for armed robberies and murdered employees. I hope everyone can see through the the lies and will vote "Not To Permit" liquor stores in our cities.
-v-