Lenoir City woman uses art and pre-med background to change lives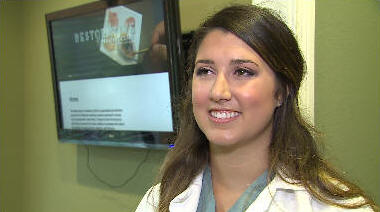 KNOXVILLE, Tenn. (WVLT) -- Walking in the door of Restorative Prosthetics in Farragut might resemble a special effects department of a Hollywood movie.
But McKenzie Wampler is creating something very few in the world are doing. She is sculpting and painting noses, eyes, fingers and ears. She replaces body parts that look remarkably like the real thing.
This Lenoir City High School graduate combined her college art and pre-med degrees to change people's lives.
"It's really, really rewarding to be at the end of the road, end of treatments to say, 'Let's put this back together. I don't have an ear. I have an ear. I had a hole in the middle of my face. Now I have a nose to breathe through. I can hold up my glasses. I can hold up my hearing aid. I can see to drive that I can be independent.
It's amazing to be a part of that," said McKenzie Wampler.