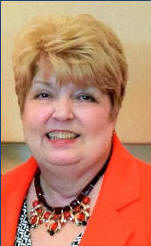 Brenda Sue Chrisman Aikens, age 64 of Lenoir City and was the First Lady of Lenoir City, passed away on April 11, 2016 at Vanderbilt University Medical Center in Nashville after battling leukemia for four years. Brenda was a wonderful and loving wife, mother, and grandmother. She was preceded in death by her parents, R. L. Chrisman and Lillian Guider Chrisman. Brenda was a member of Highland Park Baptist Church for over 50 years where she was an active and devoted Christian Serving God in many capacities, one of which was a Sunday School and Bible Study Teacher and also, Director of Creative Ministries. She was a 1969 graduate of Lenoir City High School and a 1973 graduate of the University of Tennessee. Brenda was retired from the State of Tennessee Department of Human Services. She was a member of Daughters of the American Revolution. Brenda leaves behind her husband of 35 years, Tony Aikens; daughters and sons-in-law, Rebecca and Donnie Carroll; Jennifer and Ronnie Paul Reagan; sister and brother-in-law, Betty and Mike Littleton; nephew whom she loved like a son, Chris Clabough and wife, Jennifer; grandchildren, Paisley Reece Carroll, Nathaniel Reagan, Jessica Latham and husband Adam, Kaley and Laine Clabough, Chelsey Moore and Brittany Langley. Special nephew Aaron Littleton and wife, Jodi and their daughter Celeste; special niece Stacy Littleton and fiance' Jared Colinger; mother-in-law, Dorothy Conner; special uncle and aunt, Benny Wayne and Juanita Guider; special extended family members who gave Brenda new life by donating stem cells, Theresa Moravec and her husband, Terry and their children Tommy, Tessa and Trace all of Bismarck, North Dakota; numerous other nephews and nieces.
The family wishes to express their gratitude to the following medical personal for their compassion and care because without them she would have been unable to survive the last four years: Dr. Douglas Hembree, Dr. Ronald Lands and special nurse, Barbara Marine at UT Medical Center in Knoxville; Dr. Stephen Strickland, Jr., Dr. Maden Jagasia, physician's assistant Carey Clifton, Dr. Brian Engelhardt at Vanderbilt Medical Center in Nashville; Dr. John Sanabria and hospital administrator, Mr. Jeffery Feike and Dr. Bud Guider at Fort Loudoun Medical Center in Lenoir City; Mr. Dennis Rowe and the entire staff at Priority Ambulance Service in Lenoir City. The family also wishes to express a special thank you to Robert "Tooter" Robinett, Leon Shields, Johnny James, Paul Shaw, J. J. Cox, Milo Tuttle, Perry Reed, Ken Brewster, Jim Howard and Gary Witworth for the assistance they gave her during the last 18 months helping her to experience joy and happiness.
The family will receive friends from 4 p.m to 7:30 p.m. Wednesday, April 13th at Highland Park Baptist Church in Lenoir City. Funeral services will follow at 7:30 p.m. at the church with Dr. Tommy Patterson and Bishop Ronald Reagan officiating. The body will lie in state from 11 a.m. until 12 noon at Highland Park Baptist Church on Thursday, April 14th and family and friends will proceed from the Church at 12:15 p.m. to Lakeview Cemetery for a 12:30 p.m. graveside service. Rev. Eddie Click and Rev. Tony Collins will officiate. In lieu of flowers, memorials may be made in memory of Brenda Chrisman Aikens to Highland Park Baptist Church "Build the Bell Tower Fund."
Pallbearers: Loudon County Sheriff, Tim Guider, Blount County Sheriff, James Lee Berrong, Lenoir City Chief, Don White, Maryville City Chief, Tony Crisp, Captain, Tony Arden, Captain Jonathan Bryant, Leon Shields and Chris Clabough. Honor Guard, Loudon County Sheriff's Office, Blount County Sheriff Office and Lenoir City Police Department.
Honorary pallbearers are as follows: Lenoir City Council members and spouses, Lenoir City Power Board members and spouses, Lenoir City Hall administrative staff, Royal Decendents Sunday School Class "Brenda Aikens Sunday School Class", Mr. and Mrs. Shannon Littleton, Mr. Mrs. Donard Zerrip, Mr. and Mrs. Hubert Talley, Mr. and Mrs. Jim McCarroll, Mr. and Mrs. Bill Shultz, Mr. and Mrs. Sonny Rouston, Mr. and Mrs. Gillis Morgan, Mrs. Gail Vann, Mr. and Mrs. Hugh McGarity, Mr. And Mrs. Steve Thompson, Mr. Robert "Tooter" Robinett, Mr. and Mrs. Tony Kagley, Mr and Mrs. T. Scott Jones, Mr. Bill Carroll, Dr. Cynthia Fleming, Mrs. Frava Limburg, and Mrs. Tracy Arden, Mr. and Mrs. Don White and Mr. And Mrs. Gene White. Click Funeral Home in Lenoir City is in charge of arrangements.