Zaxby's manager charged with keeping deposits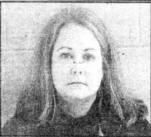 The Daily Edition-Det. Jonathan Sartin arrested a manager for Lenoir City's Zaxby's Restaurant after an investigation revealed she allegedly kept over $7000 in deposits over the course of a few weeks from mid to late December.

Michelle Ann Smallen, 45, Corinth Road, Loudon was charged with five counts of theft over $1000.

According to affidavits filed by Detective Jonathan Sartin, LCPD; Michelle Ann Smallen was employed at Zaxby's, 855 Highway 321 North, Lenoir City where she was the manager whose duties included making deposits.

An investigation revealed Smallen kept deposits belonging to the business beginning Dec 11, 2011 when she kept one deposit.

Smallen is accused of then keeping four more deposits from Dec 23, 2011 through Dec 29, 2011, making the total amount of money stolen $7,039.49.

This was done without permission or knowledge of the owners.

Det. Sartin made the arrest Friday at the Lenoir City Police Department.