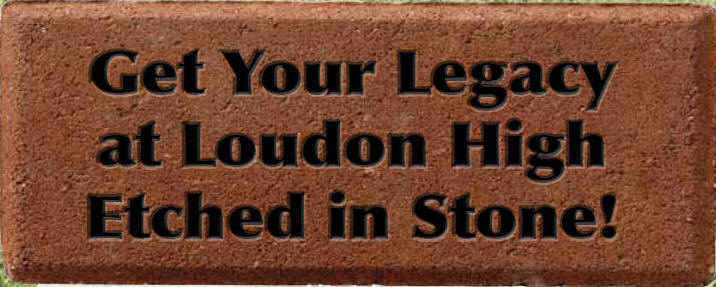 Your days at Loudon High School brought new experiences, new friends, and new knowledge that made a lasting impression in your life.
You now have an exciting opportunity to make a lasting impression at your alma mater by purchasing a brick inscribed with your name along the new football stadium concession stand walkway, "The Redskin Path".
Each personalized 4" x 8" brick can be purchased for $50.
We will inscribe your brick with your name and class year, or the name of a special friend or loved one that you wish to honor. And yes, the $50 gift is tax deductible while helping to cement your legacy for future generations of Loudon Redskins.
Some alumni have inscribed bricks with their name and class year, sports played, their wedding date, their favorite teacher, company name, or even the name of a loved one who has passed. The possibilities are only limited by the number of characters (14 per line, 3 lines max).
You can also have your brick embellished with the Loudon High script "L", or an icon that represents your favorite school activity like marching band or football. These premium embellishments are an additional $25 per brick.
Brick quantities are very limited and will not last long, so reserve one today to preserve YOUR legacy along the Redskin Path.
Deadline for submission is October 1, 2014.
Questions? Email Wendy: wendybaustian@gmail.com
or visit the the school board web site here Buy A Brick