Wild chase ends in crash, jail

Driver suspected of 4 robberies in 12 hours, authorities say
By Don Jacobs knoxnews.com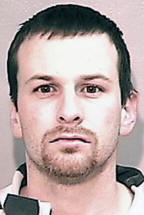 A wild ride ended with a crash and a trip to jail Thursday for a man suspected of committing four robberies in Knox and Roane counties within 12 hours.

Joseph Duggan, 31, of Lenoir City faces charges of aggravated robbery, felony fleeing and reckless endangerment, Knox County Sheriff's Office spokeswoman Martha Dooley said.

More charges could follow for Duggan, who was already on parole for a robbery conviction in neighboring Loudon County, she said.

KCSO deputies arrested Duggan after a chase that wrapped up when Trooper Carey Hixson of the Tennessee Highway Patrol said he used his cruiser to "nudge" Duggan's car off the road.

Bystander Michael Phelps watched as the officers closed in on Duggan.

"I saw the car coming up, and you could smell the burnt rubber," he said. "You could see his face. He was definitely looking for somewhere to run. He just couldn't get away from them. He spun around, and that's when they caught him there by the telephone pole."

Hixson had spotted Duggan's white Mitsubishi Eclipse and got behind him at the 364 mile marker on Interstate 40 East in Loudon County. A second trooper, Brent Cagle, joined him a mile later at the Watt Road truck scales.

At the 372 mile marker on I-40 East, the two troopers stopped Duggan's car.

"We got out with guns drawn," Hixson said. "He puts his hands out the window, then changes his mind and takes off."

The chase lasted about a mile on I-40 East before Duggan left the interstate at the Campbell Station Road exit, with troopers estimating the speed at about 90 mph. A KCSO patrol car had to swerve out of the way to avoid a crash as Duggan headed for the exit, Hixson said.

Officers then chased Duggan toward Kingston Pike.

"He was cutting in and out of traffic," Hixson said. "He blew through the red light at Parkside Drive. He hit the curb and blew out a couple of tires. He crosses Kingston Pike and swerves back. I got behind him again, and I more or less just pushed his bumper into the grass."

Duggan lay on the ground but struggled until a KCSO deputy subdued him with an electric stun gun, authorities said.

The first robbery happened at 10:42 p.m. Wednesday when a man armed with a gold-handled pocket knife entered the Mr. Gas store, 13065 Kingston Pike, Dooley said. The robber walked behind the counter and confronted the clerk, Dooley said.

"He said it wasn't worth dying for and to give him the money," she said.

The same man appeared at 6:10 a.m. Thursday at the Kenjo Market on Campbell Station Road in West Knox County, Dooley said. Again, the man walked behind the counter, confronting the clerk. He wielded the same knife with a 5-inch-long blade, Dooley said.

"As in the first robbery, he told her it wasn't worth dying for and to give her the money and she did," Dooley said.

The robber placed the clerk in the store cooler and fled.

At 7:53 a.m., Roane County officials got the call that a man with a knife had robbed the Kenjo Market at 505 Gallaher Road, off Interstate 40 at Exit 356.

At 8:43 a.m., a man matching the same description from the previous three heists displayed a knife and demanded cash at the Walgreen drugstore at 121 N. Northshore Drive.

Authorities in Roane and Knox counties said no one was injured in any of the robberies.

Investigators charged Duggan in the Mr. Gas robbery and were questioning him Thursday night about the other robberies, Dooley said.