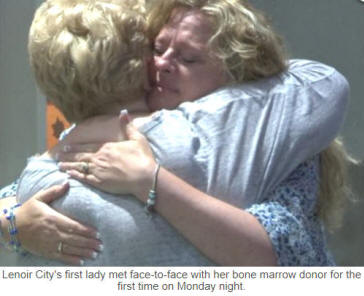 KNOXVILLE (WATE) - Lenoir City's first lady met face-to-face with her bone marrow donor for the first time on Monday night.
Brenda Aikens, who is the wife of Lenoir City Mayor Tony Aikens, was diagnosed with Myeoldysplastic Syndrome (MDS) in 2012. The community then came together, holding a bone marrow drive to find a match for Aikens. That match was Theresa Moravec.
Aikens is now in full-remission.
On Monday she got to meet her marrow donor at McGhee Tyson Airport. Aikens says Moravec gave her the gift of life. "I was given 18 months to live. Without her selfless donation, I would have not been here now," said Aikens. "I am so very thankful for this opportunity. To be able to put a name and a face to the patient that I was able to help out," said Moravec.

Aikens says when she was first diagnosed with MDS, her baby granddaughter had just been born. But she says thanks to Moravec, she has already gotten to see two years of her grandbaby's life.