Why do they call it that? Mitchell W. Stout Medal of Honor Bridge
WBIR.com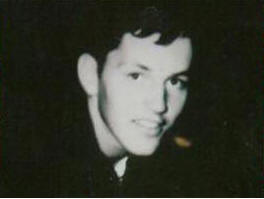 Thousands of people cross the Mitchell W. Stout Bridge on Interstate 75 every day. For most drivers, the bridge is merely another mundane part of the road that takes them across the Tennessee River.
For Ken Shockley, a veteran of the U.S. Air Force and the United States Marine Corps, the Mitchell W. Stout Bridge takes him down memory lane.
"Mitchell lived down the street from me," said Shockley, a resident of Lenoir City. "It was Mitchell, his mother, and his two younger sisters. He went to Highland Park Elementary School and was the president of the sixth grade class. Then he went on to Lenoir City High School but moved to North Carolina with his dad just before he graduated."
Shockley said the young Stout enlisted in the U.S. Army while he was in North Carolina.
"Mitchell was 17 years old and he went through paratrooper school and got his wings. Then they found out he was only 17 so the Army discharged him. By then he was 18, so he just reenlisted and they sent him down to a fort in Texas."
From there, Mitchell Stout deployed for his first tour of duty in Vietnam in 1968. In 1969 he returned home safely, but did not stay in East Tennessee for long.
"I knew the Stouts from the neighborhood, but I honestly only had a chance to really meet and talk to Mitchell once. It was when he was back home from his first tour and we were at an establishment in Farragut. We sat down and had a beer together," said Shockley. "Mitchell was telling us that he was going to volunteer for another tour in Vietnam. I remember someone trying to talk him out of it. Mitchell said some of the younger soldiers wouldn't have a chance if they didn't have somebody with experience that has been there and knows what to do. That's the reason he went back, because he thought he could help. Maybe he could help someone stay alive over there."
Less than three months into his second tour in Vietnam, Stout and his squad were defending the Khe Gio Bridge. On March 12, 1970, their compound came under attack. Stout and four other men were in a bunker when they were faced with a life-and-death decision.
"The enemy threw a grenade into a bunker. Mitchell jumped up and grabbed that grenade because he had a squad in there with him," said Shockley. "He ran out the door and put it to his stomach and it exploded. That saved everyone in there."
Sgt. Stout's bravery and sacrifice earned him the Congressional Medal of Honor. The citation reads as follows:
Sgt. Stout distinguished himself during an attack by a North Vietnamese Army Sapper company on his unit's firing position at Khe Gio Bridge. Sgt. Stout was in a bunker with members of a searchlight crew when the position came under heavy enemy mortar fire and ground attack. When the intensity of the mortar attack subsided, an enemy grenade was thrown into the bunker. Displaying great courage, Sgt. Stout ran to the grenade, picked it up, and started out of the bunker. As he reached the door, the grenade exploded. By holding the grenade close to his body and shielding its blast, he protected his fellow soldiers in the bunker from further injury or death. Sgt. Stout's conspicuous gallantry and intrepidity in action, at the cost of his own life, are in keeping with the highest traditions of the military service and reflect great credit upon him, his unit and the U.S. Army.
Shockley recalled discussing the incident with Stout's mother, Faye Thomas.
"Faye told me that when they returned Mitchell's body, there was not a scar on his face. His hands were gone, but his body had truly shielded the blast." Shockley added, "His mom also talked about how when Mitchell was a little kid there were some children who picked on him at school and call him a sissy. When you earn the Medal of Honor, that's not something anyone would ever call you anymore."
Today several locations throughout the country honor Stout's memory. The Virtue Cemetery near Farragut where Stout is buried features a Vietnam War memorial in his honor. A monument in front of the Loudon County Court House pays tribute to Stout's sacrifice.
A photo of Stout and his medals is on display at both the city hall in Lenoir City and Highland Park Elementary School.
At Fort Bliss, a U.S. Army post along the border of Texas and New Mexico, the 60,000 square foot gym and outdoor track are named the Mitchell W. Stout Physical Fitness Center.
The massive bridge that provides safe passage across the Tennessee River on I-75 also bears the name "Mitchell W. Stout Medal of Honor Memorial Bridge" for an uncommon act of bravery while defending a bridge in Vietnam.
"It breaks your heart to think that he was just a young boy," said Shockley. "He was just a normal guy. You never know what you would do in the same situation, but it makes you glad that you met somebody like that and can remember them."