Fore Note: Why is it our two supposedly republican senators always oppose the republican positions. Why don't they just go ahead and change their (R) to (D).
WASHINGTON – U.S. Sens. Bob Corker and Lamar Alexander refused to sign an open letter that Republican senators sent to Iranian leaders on Monday warning that any agreement limiting Tehran's nuclear program could be revoked as soon as President Barack Obama leaves office.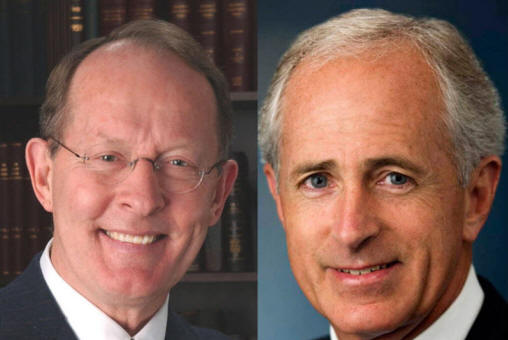 The two Tennesseans were among only seven GOP senators who refused to sign the letter, which warned that any deal the Obama administration strikes with Iran is merely an "executive agreement" that could be easily overturned unless it is approved by Congress.
"The next president could revoke such an executive agreement with the stroke of a pen and future Congresses could modify the terms of the agreement at any time," said the letter, which was signed by 47 GOP senators.
The White House and congressional Democrats blasted the letter as a partisan attempt to disrupt ongoing negotiations with Iran.
The United States and other Western powers are negotiating with Iran in hopes of striking a deal that would prevent the country from being able to develop a nuclear weapon. Republicans and some Democrats argue Congress should be allowed to vote on any agreement. But the pact that is under negotiation does not require congressional approval because it is not a treaty, which would require a two-thirds majority Senate vote to be ratified.
Corker, chairman of the Senate Foreign Relations Committee, did not sign the letter because he is pushing legislation that would provide for 60 days of congressional review for any deal that comes out of the negotiations, his office said.
"As chairman of the Senate Foreign Relations Committee, Senator Corker's focus is on getting a veto-proof majority to support his bipartisan bill for congressional review of any comprehensive nuclear agreement with Iran," the Chattanooga Republican's office said.
Under Corker's bill, once any agreement is submitted to Congress, lawmakers could approve, disapprove, or take no action on the deal.
Alexander, a Maryville Republican, did not sign the letter because he supports Corker's approach, his office said.
"Senator Alexander has expressed his position by agreeing to cosponsor Sen. Corker's legislation, which would set up a process requiring congressional approval of any agreement with Iran," said Alexander's spokesman, Jim Jeffries.