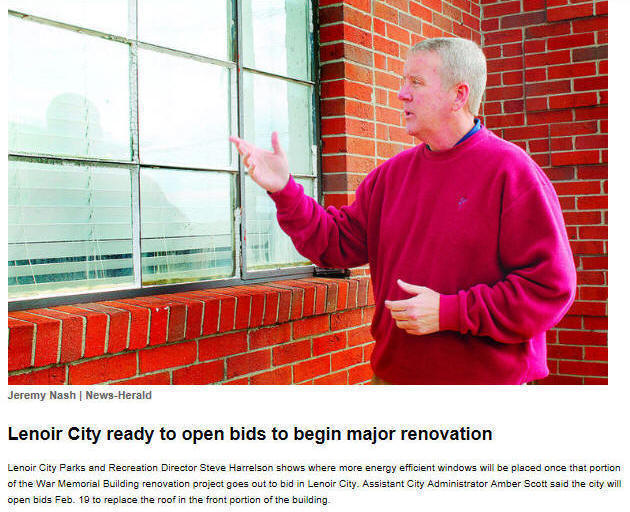 Lenoir City officials are nearly set to begin the necessary steps needed to renovate the War Memorial Building in downtown.
Last week, Lenoir City Council approved opening bids for replacing the front portion of the War Memorial Building roof. Assistant City Administrator Amber Scott said bids should be open Feb. 19.
"I mean we estimate it to be over 10 grand ($10,000), and, of course, that's the reason that we competitively bid it," Scott said. "Our purchasing policy says if it's over 10 grand you must competitively do a still bid, so that's I know that they estimate it to be over that amount of money. Now, how much over I don't know. I wouldn't estimate that it would be a lot over that amount of money."
The Tennessee Department of Environment and Conservation awarded the city a $250,000 matching grant in August, which will be used for roof installation, a better heating and cooling system and more energy efficient lighting and windows that should help cut down utility and energy costs within the decades-old building, Parks and Recreation Director Steve Harrelson said.
Locally, Scott said about $400,000 was raised to go toward building renovations.

"What we plan on doing inside of it is tearing out the existing ceiling, the drop ceiling that's in there, and putting back the original look, with exposed metal beams and roof like it was back when it was first originally built," Harrelson said. "And then we're also going to add some additional insulation to help with the utility costs."
Harrelson said that once the roofing project has been awarded to a contractor, the remaining portions of the project covered by the state grant should go out to bid simultaneously in March. Knoxville-based architectural firm McCarty Holsaple McCarty Architects & Interior Designers has been working on plans for the building.
"You know, we're looking at probably four different bids going out, and the reason that we're wanting to do all those at one time is because not too far down the road, four or five months, whenever we really get to start working on the different aspects, we'll probably have to shut the building down for several weeks, couple months or whatever to get all those things done," Harrelson said.
The building's plumbing and electrical will also need to be redone, but that could be contingent on obtaining more funding either through local donations or state grants, Harrelson said.
The War Memorial Building was placed on the National Register of Historic Places in 2011. City officials have been working closely with the National Register to ensure the historic building retains its current state, Mayor Tony Aikens said.
"The overarching goal since the building was placed on the National Historic Register was to preserve the building," Scott said. "You know, completely renovate the inside but keep the same historic feeling of the building. So you would still have the hardwood floors. The building has the roll-out bleachers. You know, you'd probably modify the bleachers. We're very limited on what we can do. You can't make it look more modern."
Harrelson estimated that the project, after all renovations have been made, should total between $1.6-$1.8 million. Overall, the project could take "a little bit longer" than two years to complete, he said.
Hopes are to eventually, once the building is complete, use it for various community events, Scott said.
"It's about a $1.8 million project, but I do believe it'll help downtown in bringing in some groups and be able to have some small — and I've said this all along — be able to have some small concerts down there," Aikens said. "And the other thing that has to be done is a sprinkler system put in it, obviously."
The building is used by the American Legion Post 70, the Little T Squares dance group, cheerleading group Young Champions of America, among others, Harrelson said. Those interested in donating for the building project can call Harrelson at 865-986-1223 or Lenoir City Hall at 865-986-2715.
"As of right now we haven't really been advertising very strongly for donations," Scott said. "We really haven't been lobbying too hard for donations yet, and the reason why is it's because we like to see things happening with it before. ... So hopefully once we get the new roof on, and we start working on the other parts of it, it'll get the public more excited about it and in a giving spirit I guess. But most of the money obviously we want it to come from grants."