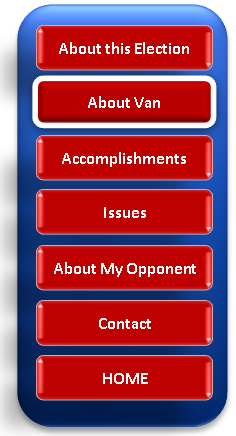 About Van
My name is Van Allan Shaver. I was born in 1959 to the late Calvin and Jean McCown Shaver. I was raised and have lived on Ford Road nearly my entire life.
My roots are important to me and I like telling people that I have moved 150 feet in 58 years. I was brought up in a Christian home and became a Christian at a young age. I was member of New Providence Baptist Church for 33 years and am now a member of First Baptist Church, Lenoir City. I've been married for 39 years to Sarah Holland and have two sons, Austin and Evan.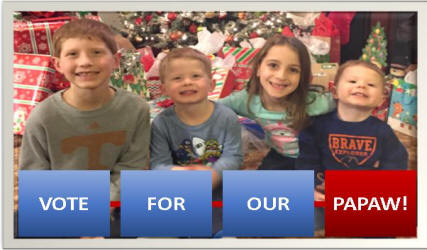 A word from my campaign managers...
My oldest son is Van Austin Shaver. Austin is married to Brittany and they have four children, Caleb, Abby, Ethan, and Luke. Austin and his family live in Nashville where he is an attorney for Baker Donelson. They are members of Long Hollow Baptist Church.
My younger son, Evan Allan Shaver is a free-lance videographer. The name of his business is Invisible Image. His business takes him to the far corners of the world. He has traveled to Turkey, Vietnam, Mexico, Guatemala, Germany, Japan, Jerusalem, Israel, Jordon, Costa Rica, Lebanon and many places in the U.S. He lives in Chattanooga and is a member of Two Rivers Church where he plays in their praise and worship band.

I am blessed to have, I believe, the greatest wife, children and grandchildren any man could ask for!
I am a 1977 graduate of Lenoir City High School and a graduate of the State Area Vocational School of Knoxville.

I worked for our three-generation family business, McCown & Son Produce Co. in Knoxville, for 20 years until my fatherís retirement and the sale of the business.

For 20 years, I was on the Board of Directors and managed a multi-million dollar budget.

For the past 20 years, I have been self-employed as a home maintenance contractor, but now spend much of my time working on farm raising cattle.

For 24 years I served as volunteer commissioner of the Eaton Ruritan Community Baseball Park.
I have a political record, a personal, record, and a spiritual record --all of which are far from perfect but all of which are open for public scrutiny. If the voters of the 5th District give me the opportunity to represent them, I promise I have and I will work for you!