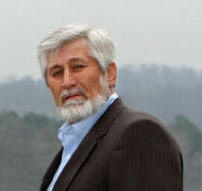 About Me:
My name is Gary Kinard and I'm running for the position of Loudon County Road Superintendent. I was born in Newport, Arkansas in 1951, where I grew up on my family's farm. I lived in Arkansas through high school graduation, then embarked o my career in the trucking business.

I moved to Loudon 29 years ago and have never been happier. I have been married to my lovely wife, Cindy for 25 years. We have three children: Christine Townsend, Debbie Daily, and Mike Bennett. We also have four wonderful grandchildren: Jodi, Ty, Max, and Lexi.

I am proud to say I have experienced many different types of work and met many interesting people in my travels. I was fortunate to launch and maintain a successful trucking business for over twenty years, before I retired a couple years ago. I have stayed involved in farming and always will.

My Platform:
If elected, I would operate this office with a 'blue collar' approach. I would not ask someone to do something that I would not be willing to do myself. I would care for the tax payers money in a responsible manner, never forgetting where it comes from. Most importantly, I would employ the theory of "common sense" to all situations. I think government has too many career politicians and not enough business minded leaders. Loudon County deserves to have a road superintendent that will address the current issues and also anticipate future problems. Many years of over the road trucking experience, has left me with a deep-rooted value of the importance and safety of well maintained roads.
My Experience:
In 1997, I began an apprenticeship in construction under the direction of a local trucking and equipment company, where I started gaining experience in road construction. My range of work included many different aspects of road construction, from the planning and coordinating of projects, to operating heavy equipment, to paving. While holding my supervisory position, my duties included: assisting daily in determining the size of work crew, equipment, and materials needed for each project, as well as, being responsible for the planning and organizing of the safety activities of the crews to include effective techniques for the use and operation of tools and equipment.
My Qualifications:
1.) Construction of a one mile stretch of Matlock Shores Road in Loudon, which was later turned over to Loudon County.
2.) Construction of three connectors on Lamar Alexander Parkway.
3.) Construction of a 300 foot connector to state Highway 72 in Loudon.
4.) Re-grading, installing catch basins & drain pipe, and placing pug mix and compacting for re-surfacing on a stretch of road in Vonore, Tn.
I look forward to serving the citizens of Loudon County as your next Road Superintendent.
Please feel free to contact me to discuss any concerns, issues, or ideas you may have for the betterment of our great county.
If you would like a yard sign, I can be reached at 865-556-3116
Thank you for your time and support,
Gary Kinard
Candidate for Road Superintendent
20945 Fork Creek Road
Philadelphia, TN 37846