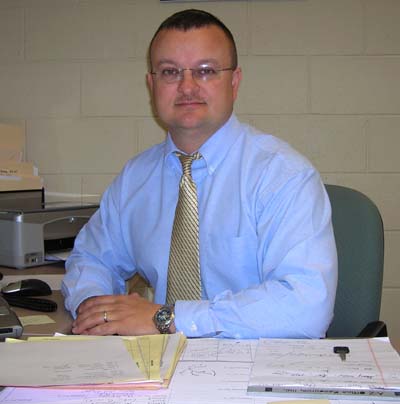 My name is Mike Newman and I am asking for your support and vote on May 4th 2010 as county commissioner in the 4th district. I have been a proud citizen of Loudon County since I was 8 years old. I graduated from Loudon High School in 1987. I became a deputy with the Loudon County Sheriff's Department in 1990 and graduated from the Tennessee Law Enforcement Academy in 1991. I worked for the sheriff's department until 1995 when I left to become an officer with the city of Loudon Police Department. While being employed with Loudon Police Department I have been an officer, training officer, detective, and I am currently the detective and assistant police chief. I have attended numerous classes and trainings as a police officer including the Southeastern Leadership and Command College conducted by the University of Tennessee. It was a 6 month long course, which taught me more than how to be a better police officer. I had leadership training, instruction in finances and budgeting, and grant writing.

I am married to Misty Bettis Newman. She has been a citizen of Loudon county her entire life except when she attended Tennessee Technological University where she earned a bachelor degree in Elementary Education. We met in 2001 and were married September 28th 2002. I have a 16 year old son, Luke, who is a junior at Loudon High School where he is a proud member of the Redskin football team. We have two daughters, Jaycee who is 3 years old and Jaida who is 2 years old. They attend Little Warriors Daycare at Philadelphia Elementary School.

My family and I have strong moral values and our priority's are God, family, and education. We are Christians who believe that our family and friends are the most important things in our lives. We want our children to do their best and know that other than your faith and family nothing is more important than an education. We want them to get the best education possible in a safe and friendly environment. Children excel at different things so I feel they need to be offered more opportunities other than the basic curriculum such as art, music, drama, sports, etc. To do that our schools need more space. If a child can find something that they are good at it will help their self esteem and confidence which will help them to achieve anything that they set their minds too. It may sound cliché but children are our future so we need to start preparing them by giving them nothing less than the best we can possibly give.

I decided to run for county commissioner of my district because I want to make a difference in my county and also in my 4th district community. My family and I live in Philadelphia on a farm that has been in my wife's family for over 100 years so this area means a lot to her and to me. I feel that some of the things that I value and make a priority in my life are not being made a priority in our local government. Being married to someone who has a degree in education, was formally employed with our local school system, and having children in our county schools makes me want our schools to be a top priority and right now it is not. I also feel very strongly that if you are an elected official you work for the people that elect you. That is something else I do not feel is currently a priority for some of our public officials. If I am elected I will consider myself employed by the people in my district and will do what the majority of them want whether it is popular among my fellow politicians or not. I am not one to make promises to get myself elected but that is one promise I will make and keep. I encourage anyone with any questions or concerns to call me and I will personally answer all of them to let you know where I stand as a candidate. If I am elected that WILL NOT change. I will always be available to the citizens of this county especially to the people of my district because I will work for YOU to make our county the best it can be.

I feel there is one issue I need to address for you the voter to make an educated decision on whether you would like for me to be your county commissioner. One of the biggest issues facing our county commission right now seems to be whether to build new schools, which ones to build, and when. I want to let you know where I stand on this issue. I feel Greenback needs a new school, there should be NO trailers at Loudon Elementary school, the students at Fort Loudoun middle need a new school, and Philadelphia Elementary cafeteria needs to be expanded or a new one built so that the students can eat lunch at a normal time instead of 10:30 in the morning. It is my understanding that the school board has done their job and has the plans to fix all of the issues facings these schools; they are waiting on funding from our County Commissioners. Two of the commissioners have voted in favor of the school boards plan and if I am elected I will also vote yes. These plans need to be implemented immediately.

Thank you for taking the time to learn more about my campaign and me. If you have any questions for me please feel free to call me anytime. I will be more than happy to discuss any issues you may have over the phone or I will come speak to you, your family, or your organization.
Sincerely,
Mike Newman
865-310-9265
195 Gentry Rd.
Philadelphia, TN 37846