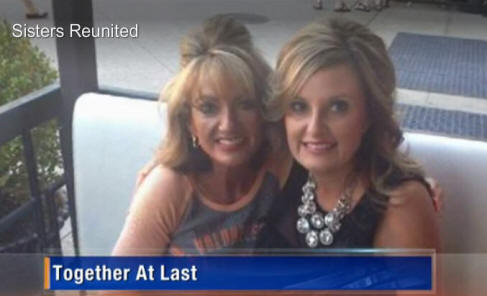 KNOXVILLE, Tenn. (WVLT) --
Siblings share everything -- from childhood through the teenage years and their weddings and new families.
These two East Tennessee women missed all of that, but now after years of searching, they're making up for it.
Karen Russell was adopted at birth by a couple who couldn't have children.
"I had a great life, had great parents," she says.
But she also wanted to know more about her birth mom. Russell found her -- and at 47 years old, learned she had a biological sister her mom also gave up at birth.
"I wanted to meet her so bad," Russell says. "I always wanted a sister growing up."
The very next day, Karen Russell drove to her sister's Greenback home.
"When I walked up to the door, we both just kinda looked at each other. We both just started crying," Russell says.
"I knew when I seen here that that was my sister."
That's Karen Thomas. Yes, they were both named Karen.
The two found out a lot more about each other that day. Even though they grew up apart, they shared a lot. The blue and white star dresses, the pixie haircut, the brown eyes, even the olive skin.
"Probably a good thing we didn't know each other as teenagers we'd been in trouble a lot," Thomas says.
Now they're sharing everything they missed.
"Our wedding days, having babies, children getting ready, slumber parties. All the things sisters do," Russell says.
That reunion was two years ago. Since then, they've been doing everything together.
"Concerts, fire pit! We laugh a lot and we have fun," says Thomas.
They are there for each other in good times and the bad - times Karen Russell knows well.
"She [Thomas] was just diagnosed with breast cancer last week so we joke each other if you need bone marrow you've got it," Russell says.
"Even though we weren't together for 47 years, we're together like glue now," Thomas says.
And this inseparable duo also has some advice:If you're adopted, they say it's important to find your biological parents -- if only for your medical history.
But then again, they say, maybe you'll find the relationship of a lifetime, as they have. It's actually gotten a lot easier over the years. Just get in touch with the Department of Human Services.