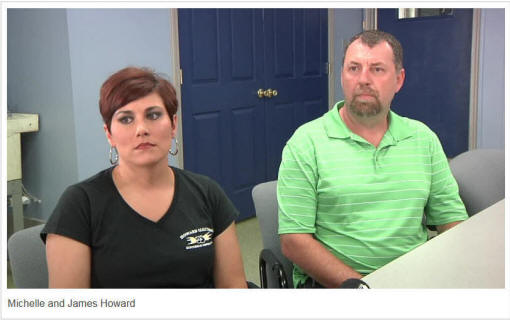 LENOIR CITY (WATE) – The Loudon County Sheriff's Office is looking for someone who stole thousands of dollars worth of equipment from a business.

It happened over the weekend at Howard Electrical Contracting, and now the business is using social media to offer a $1,000 reward for information leading to an arrest.

"We had some friends that were up here working, and they said that our generator was gone and did we loan it out to somebody," said owner Michelle Howard.

She and her husband James say when they got that call Sunday afternoon, knowing the generator should have been there, they went straight there.

"Whenever I got to the door I looked down at the handle and saw that the weather stripping all destroyed so we knew someone had been inside, but we didn't notice anything was missing," she said.

"We couldn't see any drawers open or anything turned over out of place, and we got to looking and I keep a pistol in my desk drawer. My pistol was gone," said James Howard.

They noticed several other high cost tools and equipment gone. The list is still growing. It is now up to about $15,000 in stolen items.

"We're a small business and it's going to take a while to recoup that," said Michelle.

The thieves went around the backside of one of the storage buildings where most of the big equipment was being kept.

"The police and myself, we think that it's probably someone that knows us, that we're familiar with, and you know that's what hurts," said James.

The Howards posted what happened on Facebook offering the reward. Now with more than 200 shares, they are hoping the post will help to catch the thief.

"It's taking away from our business. It's taking away from our employees. It's taking away from their families, and it's also taking away from our families and I take that very personal," said Michelle.

Anyone with information should call the Loudon County Sheriff's Department at (865) 986-4823.