THEFT OF PROPERTY ARREST
<![if !vml]>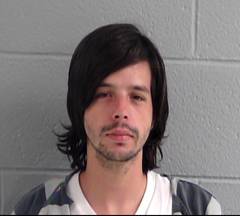 <![endif]>
On Friday, June 19, 2015, Jeffrey Jacob Graves, age 28, of 2697 Jackson Bend Road in Lenoir City, was arrested on multiple theft and burglary charges related to car break-ins at a location called "The Bluffs" in Lenoir City, an area that is used for swimming and recreation. Victims usually had their vehicle windows broken out and items taken such as cash, credit cards, and electronics.
After surveillance of the area, Graves was determined to be a suspect, was interviewed, and admitted to his part in the crimes. Graves has been charged with three (3) counts of Theft of Property and three (3) counts of Burglary of a Motor Vehicle. There is another person of interest that the Loudon County Investigators are pursuing charges against at this time.
Loudon County Sheriff Tim Guider noted that his office has tried making people using this remote location aware that there were ongoing thefts in this area, and still recommends anyone using this area to use common sense and exercise caution, as this is on private property.