PRESS RELEASE
Loudon County Sheriff's Office
Theft and Burglary Arrests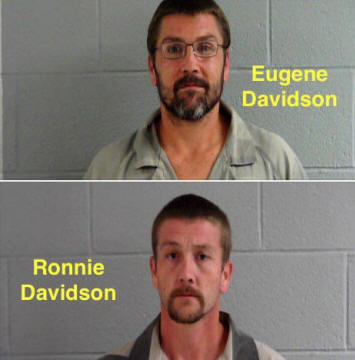 Sheriff Tim Guider announced today that two subjects have been arrested in connection with burglaries and thefts in the... southern end of Loudon County. During late summer and early fall several burglaries had been committed in the areas of Oakland, Erie, Jim Dyke, and Blue Springs Roads. Items taken included a 4-wheeler, a knife collection, leaf blowers, weed eaters, fishing tackle, and riding lawn mowers. Investigators developed leads on two suspects in Roane County, including a lead regarding where some of the items could be located. Following up, investigators discovered the stolen 4-wheeler, and also lawn equipment and fishing tackle that connected the two suspects to other thefts.

Brothers Ronnie Davidson, 36, and Eugene Davidson, 38, were then arrested at their home in Roane County with the assistance of Roane County Deputies. Through interviews with the brothers and additional follow-up, thousands of dollars of stolen property was recovered, including riding mowers, weed eaters, chain saws, fishing tackle, surround sound systems, hand tools, and gaming equipment, some of which came from burglaries which detectives were not aware of. Detectives are currently attempting to locate the owners of some of the items recovered. Each of the Davidsonís have currently been charged with Theft of Property and Aggravated Burglary, but more charges are pending and some will be taken before the Grand Jury. There are also other subjects that could be charged in connection of these thefts.

Although diligence is recommended all year, due to the upcoming holidays Sheriff Guider urges everyone to please be extra careful with their home and vehicle security as criminals sometimes see Christmas as a time of opportunity. Homes, buildings, and vehicles should be locked at all times. He recommends serial numbers of items be recorded and photos of items be kept. Not having this done sometimes makes it difficult to reunite owners with their belongings should they be stolen.