Bray, court reach agreement on boating case
By Bob Fowler knoxnews.com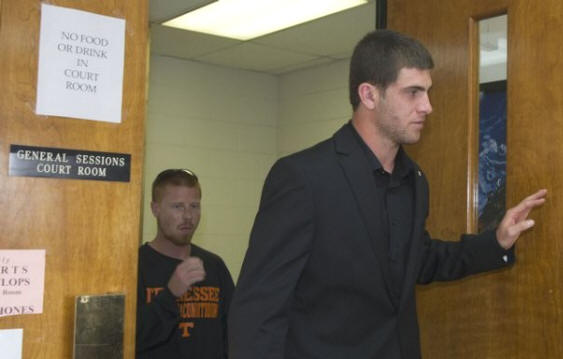 LENOIR CITY — Tyler Bray's day in court lasted some two minutes Wednesday afternoon.
But the Tennessee quarterback exited with an agreement that will allow him to avoid prosecution and possible convictions for misdemeanor boating offenses.
Bray, 20, was nabbed on the 4th of July in the main channel of Tellico Lake.
He and a female companion were "hot-dogging," an officer said, riding a personal watercraft and "almost playing chicken" with another couple on another watercraft.
When the other couple's watercraft wiped out, Bray piloted his Yamaha watercraft too close to them, spraying them as they swam back to their watercraft, Tennessee Wildlife Resources Agency Officer Dewayne Williams said. "He (Bray) was almost on top of them."
"It could have been very, very dangerous very quickly," said Williams, who said he watched the incident from about 100 feet away in his marked TWRA patrol boat.
"It happened directly in front of me," Williams said. "That's what I couldn't believe."
Boating regulations state watercraft are to stay 100 feet away from one another, he said.
"He (Bray) was putting their lives in danger," Williams said. He said the swimmers, who were never identified, mounted their watercraft and sped off as he detained Bray and his companion.
Before Bray's brief appearance in Loudon County General Sessions Court, the TWRA officer met with Loudon County District Attorney General Russell Johnson, who then conferred with Bray's retained attorney, Brian Nichols of Loudon, to hammer out an agreement.
The DA and Nichols quietly explained those terms to Loudon County General Sessions Court Judge Rex Dale at his courtroom bench while Bray listened.
Dressed all in black, Bray left that huddle, declined to answer questions, walked past journalists and cameras and quickly departed the Loudon County Justice Center.
According to the agreement, Bray:
Will have his boat-driving privileges suspended for a year, give boater safety talks to three area schools and pay court costs on the Class A misdemeanor charge of reckless operation of a watercraft.
Will attend two, three-hour boating certification classes — after football season — to obtain the required certification, and pay court costs.
If Bray complies with those guidelines, the citations against him will be dismissed when there is a status report on the cases Feb. 13, 2013.
TWRA officials are mulling an option in the agreement. The agency is willing to drop the safety talks if Bray can instead make a boater safety public service announcement. Johnson said officials would have to check if NCAA guidelines will permit such announcements.
Williams said the reckless boating charge is a Class A misdemeanor and could have carried up to a $2,500 fine and six months in jail.
No alcohol was involved in the incident, Williams said, and he described Bray as "polite and very cooperative."
The TWRA officer also said he didn't recognize Bray.
The registration of the watercraft Bray was piloting isn't on file with TWRA, Williams said, but the sticker on the watercraft showed it was registered.
Ownership is still to be determined, he said.
Nichols said he was retained to represent Bray, but he wouldn't say who hired him.
Williams said he "gives a lot of citations" for boating violations involving personal watercrafts.
Last month, Bray was linked to a vandalism investigation stemming from incidents at his apartment complex. Bray agreed to pay for damages to a vehicle that was pelted by beer bottles and golf balls.
A second individual who believed her car was damaged in retaliation for reporting the original vandalism declined to pursue the matter after the Landings Riverfront Apartments said it would cover her costs. Knoxville police said no charges would be pursued against Bray in either case.
Last week, Bray described the vandalism as a "real stupid decision" that represented a "step back" in his goal of being a team leader. Bray said that he had had to fulfill unspecified disciplinary measures by coach Derek Dooley before beginning practice.
Dooley was not scheduled to meet with reporters after practice Wednesday and has not commented on the citations Bray received July 4.
A native of Kingsburg, Calif., Bray passed for 1,983 yards and 17 touchdowns in 2011.