Teen makes the most of two talents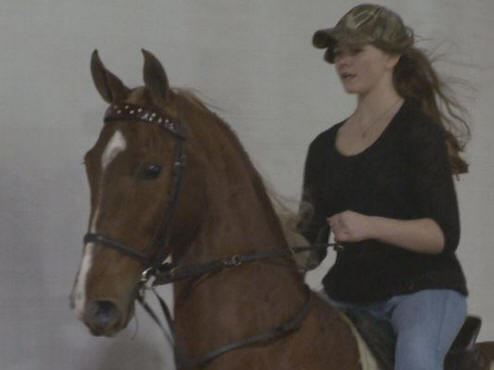 She rides horses and draws them. A teen from Greenback has earned awards for both talents.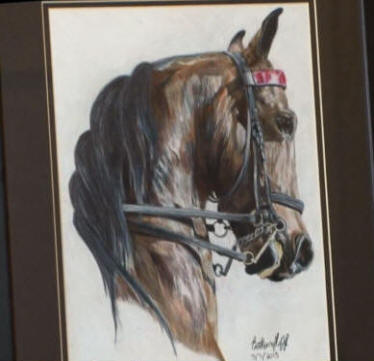 Bethany Poff spends a lot of time riding horses at Evans Lakeview Stables in Greenback.
"I just love the fact that you can talk to them. You can tell them everything about your life and you don't have top worry about them telling somebody all your secrets," she said.
Her sister convinced her to start riding American Saddlebreds about two and a half years ago. Since then, she's won a lot of awards at horse shows. The 14 year old calls the experience surreal.
"You always imagine yourself out there doing all these amazing things and when you get there it's like crazy. The intensity of the moment," she said.
Bethany has combined her love of horses with her talent for art. She captured the image of one particular horse in a colored pencil drawing.
"When I draw a horse it is expressing that amazing love I have for them," she said.
She's loved horses for as long as she can remember.
"I keep finding these old pictures of them like paintings I've done when I was in like second grade and I guess it has kind of escalated from there," she said.
Her grandfather, Sam Reighard, was an artist who inspired her.
"I always went in his studio with him and we would talk about all kinds of stuff like art and he would show me different techniques," she said.
Now she draws in her bedroom at the art table her grandfather used.
"It's like he's sitting there with me," she said.
Her mother, Cheryl Poff, said, "The art table is pretty special. I watched my dad actually build that art table."
Grandfather and granddaughter share artistic talent but Bethany is better at drawing horses.
"That was the one creature my dad really wanted to draw and he tried so hard and we've seen my daughter perfect it," Cheryl said.
Bethany has not only won awards for her skills with horses but also for her talent with pencils.
"The year before last year I got juried in to the Dogwood Arts Festival. And then the year after that I got first place in my age category. And then this year I put another drawing in to the Knoxville Museum of Art and I got juried into that one too," she explained.
Cheryl said, "To see her take it to the next level in something my dad just loved so much is just huge for us. It's a blessing."
Bethany has combined her love of horses and drawing in another way, too.
She said. "I have a business. It's called the Paper Equine. And what I do is we go to shows and I draw people's horses for them and I mail it out to them and so in the future I probably see myself continuing that business and seeing it grow."
All that and she is just 14 years old.