Maryville man, Greenback man arrested in assault, vandalism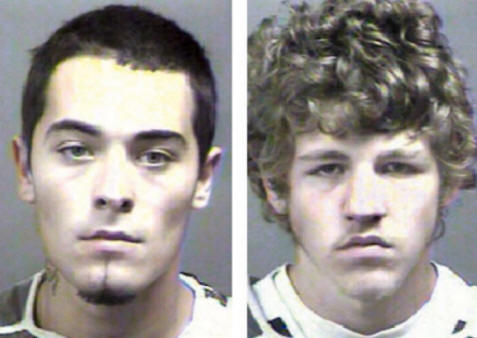 Dillon Goforth Darin Flowers
thedailytimes.com-Two men were arrested and charged Friday in connection with an assault and vandalism incident which took place the evening of July 17 at Atchley Apartments in Maryville.
Darin Scott Flowers, 20, Garner Circle, Maryville, was arrested by Blount County Sheriff's Office deputies on a charge of vandalism greater than $1,000. He was being held in lieu of $2,500 bond pending a 9 a.m. Tuesday hearing in Blount County General Sessions Court.
Dillon Lee Goforth, 20, Meadow Road, Greenback, was arrested by deputies on charges of felony vandalism and leaving the scene of an accident with damage. He was released on $3,500 bond pending a 9 a.m. Tuesday hearing in Blount County General Sessions Court.
The charges stem from an incident where a 19-year-old Maryville man was reportedly assaulted and his vehicle vandalized July 17 in the parking lot of Atchley Apartments, located on Atchley Drive in Maryville.
The victim said he had stopped by the complex to drop someone off at an apartment when he saw two Flowers and Goforth running toward him, according to the Maryville Police report detailing the incident. The man said before he had a chance to leave the two men began to strike and kick him and his vehicle.
Goforth, who the victim said was armed with brass knuckles, reportedly struck the victim in the face with the brass knuckles before breaking out both his windshield and rear window. Both men then kicked and punched his vehicle, causing an estimated $1,000 in damage.
Officers responding to the scene observed swelling and redness to the victim's left eye, according to the report.
Maryville Police Chief Tony Crisp said detectives took out warrants on the two men following an investigation.
Both Flowers and Goforth were located and arrested by Sheriff's Office deputies on Friday.