Child with cancer inspires Loudon teacher's book
Proceeds from sales will help pay for medical treatments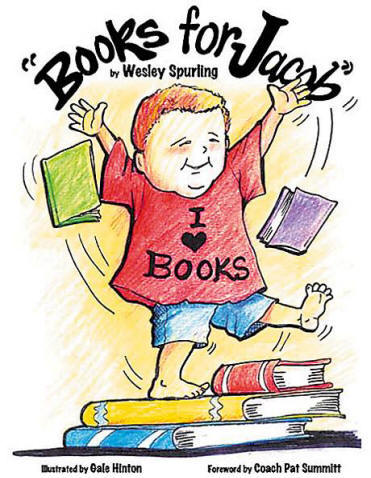 LOUDON - Loudon Elementary School teacher Wesley Spurling had wanted to write a children's book for several years.
After becoming aware of student Jacob Auchey's battle against cancer, he found literary - and emotional - inspiration.
As a result, the physical education instructor and area high school and junior college basketball referee recently penned "Books for Jacob," with the proceeds going to help pay for Jacob's medical expenses.
The elementary-age-level book is based on 7-year-old Jacob's stay in Children's Hospital at Vanderbilt in Nashville for treatment for a brain tumor and the stories that were read to him by Loudon teachers via a tape recorder after his cancer severely restricted his vision.
Spurling said the motivation for the book started shortly after he learned Jacob was re-diagnosed with a brain tumor in 2007 while in the first grade. Jacob's teacher, Karen Bethel, sent around a tape recorder to fellow teachers, asking them to read stories that he could hear while undergoing treatment.
The stories gave Spurling, who had thought about writing children's books for several years, an idea for his own story.
As a result, he got up one morning about 3 a.m. after lying in bed awake and started scribbling story ideas on bills and fliers he found.
"My wife came in about 4:30 a.m. and asked me what I was doing, and I replied, 'I don't know, but I think I am writing a children's book,' " said the Doyle High graduate, recalling the incident with a laugh.
When the book was complete, Spurling published it through authorhouse.com. Knoxville artist Gale Hinton did the illustrations for free, and University of Tennessee women's basketball coach Pat Summitt, with whom Spurling had become acquainted while refereeing her summer basketball camps, agreed to write the foreword.
A small number of copies were printed earlier, but Spurling is actually reprinting the book to feature a dedication page to Jacob, an idea suggested by the boy's grandmother, Freida Roberts.
Hastings bookstore in Maryville will sell the book, and radio stations B-97.5 and Star 102.1 are scheduled to do promotions.
Any proceeds from the book will go to a fund for Jacob set up through Foothills Federal Credit Union in Loudon.
Jacob, who will turn 8 years old at the end of June and is now in Susan Hackney's second-grade class at Loudon, will undergo chemotherapy later this month after another slight growth in the tumor was recently detected, his mother, Cindy Auchey, said.
A tumor had been found and mostly removed when Jacob was nine months old, and he had no further problems until 2007, she said.
Despite the reoccurrence, the family remains optimistic.
"Hopefully (the book) will bless their family," said Spurling, who has also taught Jacob in P.E. "He is just a really, really neat kid."