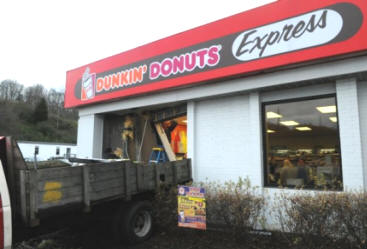 A driver hit the gas instead of the brakes and crashed into the Dunkin' Donuts Express at the TravelCenters of America truck stop in Loudon County at approximately 1:45 p.m. today.
"She drove halfway through the store," Randy Smith, the general manager, said.
Smith said a Ford Explorer SUV crashed through the store, damaging merchandise and demolishing the structure of the recently remodeled building.
Neither of the vehicle's two occupants were injured, but two customers at the TA truck stop suffered minor injuries. Smith said one went to Parkwest Medical Center for treatment.
"We can laugh about it. The main thing is that nobody got hurt seriously," Smith said.
The Watt Road business will remain open around the clock while awaiting repair.
Many of the center's 130 employees agreed to come in and begin cleaning up rubble tonight.
"I've got the best staff I've ever had in my life," Smith said.
Roane County Fire and Rescue, Rural/Metro and the Tennessee Highway Patrol responded to the crash, according to Loudon County dispatch.