<![if !vml]>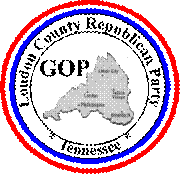 <![endif]>
SUSTAINABLE DEVELOPMENT / AGENDA 21
LOUDON COUNTY REPUBLICAN PARTY MEETING TOPIC
Thursday, January 26, 2012
Loudon County Court House Annex
Sally Absher, State Executive Committeewoman for Tennessee's 6th District will be the featured speaker at the Loudon County GOP membership meeting on Thursday, January 26 at 6:30 p.m. at the Loudon County Court House Annex.
Mrs. Absher who lives in Knoxville holds a Master of Science degree in Geology from the University of Tennessee. Sally has long been a skeptic of global warming and last year became interested in connecting the dots between global warming ("climate change"), the "green" industry and "sustainable development." She discovered the United Nation's Agenda 21 and the global Sustainable Development movement. Almost all American counties have "sustainability" programs that limit land use, direct the educational system and deploy technological techniques to monitor and control human activity. The programs are being implemented as "common sense initiatives."
At the local level, Knoxville recently received a $4.2M grant from HUD which is being used, in part, to orchestrate the Five County Comprehensive Plan known as PlanET. The five counties include Knox, Loudon, Anderson, Union and Blount.
The meeting is open to the public. Make your plans to attend and learn more about Sustainable Development / AGENDA 21 and its influence in Loudon County.