TBI identifies suspect in Lenoir City shooting
LENOIR CITY, Tenn. (WVLT) -- New Information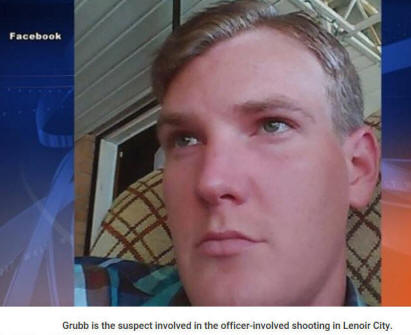 UPDATE-Lenoir City Chief of Police Don White said two other people were arrested in connection with the officer-involved shooting.
Brandon Taylor was filling a truck with gas. The officer handcuffed him for public intoxication, that's when shooting victim, Joshua Grubb, sped off in that truck, White said.
Taylor ran to a hotel across the interstate. Officers found him hiding in a bathroom, according to White. He is charged with public intoxication and evading arrest.
A female, Toni Sutton, who was also with the group, was in the convenience store at the time of the incident. Officers arrested her for possession of drug paraphernalia, White said.
Officers responded to a call an hour before the shooting involving Sutton at Krystals. According to White, officers checked her, but she was not arrested.
Staff at Ruby Tuesday's tells Local 8 News they found Sutton belligerent in the restaurant's parking lot around 1 a.m. The truck linked to the shooting picked her up. Staff called 911. That's when the incident unfolded.
PREVIOUS STORY-Lenoir City Police Department confirms an officer was involved in a shooting early Sunday morning.
LCPD Chief Don White says an officer responded to a possible DUI on Highway 321 near Interstate 75 at around 1 a.m.
White said TBI is conducting the investigation. They are still in early stages.
TBI spokesperson Susan Niland said the officer spotted a pickup truck matching the description of the vehicle described to the 911 center, and made contact with the occupants of the vehicle.
When the officer attempted to arrest the passenger for public intoxication, the driver of the vehicle attempted to flee the scene, Niland said.
The driver has been identified as Lebanon resident Joshua Grubb, 30.
Niland says the officer jumped into the bed of the vehicle while the driver attempted to flee the scene. After refusing the officer's commands to stop the vehicle, the officer fired shots into the cab of the truck, striking and killing the driver.
The officer involved sustained minor injuries, Niland said. White says the officer was placed on administrative leave with pay.