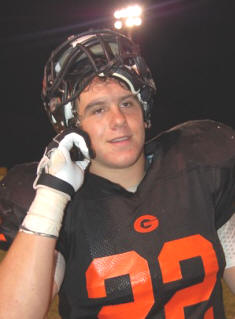 Greenback High School lost one of its most beloved students and football players Friday, leaving a tight-knit community in mourning.
Senior fullback and defensive lineman Ryan Seymour, 17, passed away at 2:52 a.m. Friday at the University of Tennessee Medical Center, according to a report by the Tennessee Highway Patrol, the result of injuries sustained as a passenger in a single-vehicle accident Monday in Blount County.
"It's been hard to focus on any business, you know? Everybody's just been trying to come to school and put on a normal face," said Greenback football coach Justin Ridge. "But, it's been really tough for people. Everybody's just trying to get through it."
Seymour left behind his father, three sisters and a brother: 15-year-old Richard — the running back for whom Ryan blocked this past season. Richard ran for 1,418 yards and 12 scores for the Cherokees (8-4).
Ryan was a team captain.
"He had a lot of character. Leadership wise, he's one of the best I've been around," said Ridge. "He's always positive and always trying to get people focused on doing the right thing.
"It's easy to be a leader in the fourth quarter when you're down a touchdown and everybody wants to step up and be that guy. But when it's January and you could be at home doing something else, and you're out there pushing everybody else to work hard and leading by example, that's when it's tough. That's the kind of kid he was."
Ryan Seymour was riding with three other teammates in a 1994 GMC Suburban that crashed at 6:04 p.m. Monday on Calderwood Highway, according to a report from trooper Joey Lindsay.
The Suburban left the right side of the road when rounding a curve heading south on the highway. The SUV flipped and came to rest on the northbound side of the road, according to Lindsay's report.
Seymour, Cody Dyllan Roulette, 18, of Friendsville and Dale Starritt, 16, of Loudon and driver Caleb Simpson, 16, of Maryville were ejected from the vehicle. None wore seatbelts. Using seatbelts would have made a difference in the injuries suffered, according to the THP's report.
Simpson has been cited in the crash, according to the THP, although the specific charge was not listed. Tests have been ordered to determine if drugs or alcohol played a part in the crash.
Starritt was released from the hospital Monday. A UT Medical Center spokeswoman said Friday that Roulette had been discharged but that she had no information on Simpson.
Michelle Edwards, Seymour's former foster mother and a Greenback resident, said Seymour was living with his father and his brother Richard and 13-year-old sister Hannah in Greenback.
Seymour's mother passed away a few years ago, Edwards said.
Edwards' son, Johnny, attends Greenback, played football alongside Seymour and considered him a best friend.
"We were brothers," he said.
The four involved in the crash were at Edwards' house prior to the crash and left to go to Simpson's house for dinner, Michelle Edwards said.
"They wanted me to go with them, and I told them 'no,' " said Johnny, fighting his emotions.
A bank account, in Seymour's name, has been set up at Regions Bank in Greenback (6705 Morganton Rd., Greenback, TN 37742).
Edwards said any money would be appreciated. Ryan Seymour planned to forgo college and enter the work force to help his family financially, Edwards said.
"We just talked about it two weeks ago," she said. "He wanted to help support his younger brother and sister. He wanted to go get a job to help them."
Former Greenback quarterback Bunkie Vanskiver, a 2009 graduate who played with Seymour during the Cherokees' 2008 run to the Class 1A state quarterfinals, echoed Edwards' sentiments of Seymour's selflessness.
"He was one of the nicest kids in Greenback," he said. "He'd do anything for you. He'd give you the shirt off his back. I don't know one person that doesn't like him.
"We're one big family (in Greenback). When something happens to somebody its affects us all."
Support and prayers poured in for Ryan Seymour during the battle for his life this week. More than 3,000 people became a member of a page on Facebook called "Pray for Ryan Seymour."
"He was the kind of person that, no matter what was going on in his life — he had a tough life — he always seemed to overcome it and help people out in the process," said Johnny Edwards.
"He was so brave and strong. He was my hero."