State representative Julia Hurley said she regrets remarks made after a January traffic stop.
THP Trooper Teresa Brown pulled Hurley over on January 22 on Route 27 in Rockwood. At the time, the freshman representative was driving in her mother's BMW. According to record, she was going 77 mph in a 50 mph zone.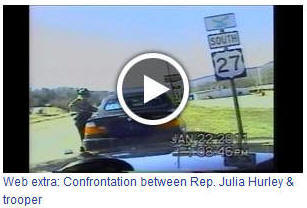 During the tape, after Trooper Brown returned to Hurley's car to sign the situation, Hurley got upset.
Tpr Brown: "Alright Miss Hurley can I get your signature?"
Rep. Hurley: "No I will not be signing that and I will not be signing it. I did not do 77 in a 50."
Tpr Brown: "I'm sorry?"
Rep. Hurley: "I did not do 77 in a 50."
Tpr Brown: "Yes ma'am you were."

Hurley said she wanted to see the radar gun that clocked her speed. Trooper Brown refused.
Tpr Brown: "I don't have to show you... with your attitude."
Rep. Hurley: "Because you don't have it."
Tpr Brown: "Oh but I do. So now if you don't sign it, you can get out of the car, and go to the Roane County Jail."
She eventually signed the citation. At one point, she also called her lawyer questioning whether signing the ticket would mean entering the guilty plea.
Hurley drove away without further incident.
Friday, 10News spoke with Rep. Hurley about the tape. She said she was sorry for what she said. "I can realize my mistakes and it should be apologized for," she said.
She added, "my number one concern is not a speeding ticket. It's the jobs and the future of the people for the people of Roane County."
Hurley added she paid the ticket two days after it was issued. She also wrote an apology to both THP and Trooper Brown.