The letter sent to the Lenoir City school system demanding that they change their actions, like praying before board meetings, was signed by a Mr. Bill Burgess. Below is Mr. Burgess photo and bio listed on the The American Humanist Association web site.
Ever wonder what really makes people like this tick? Read it yourself.
At the end of the article is a link to Mr. Burgess page with a comment section if you would like to communicate with Mr. Burgess. I also included a link to their facebook page.
Just remember, be careful what you say. Jesus was asking God to forgive the men who were driving the nails through his hands.
WWJD
---
Staff Profile: Bill Burgess, Legal Coordinator

This week's Humanist Network News Staff Profile features our new staff attorney and legal coordinator of the Appignani Humanist Legal Center, Bill Burgess.
Tell us about your educational and work background.
I studied international relations at the College of William and Mary. After realizing that I might be close to unemployable as just another liberal arts degree holder without any particular marketable skills, the chance to study law at Georgetown called me back home to the D.C. area. I chose the law because I thought that it might offer a chance to spend my working days engaging my mind, and, perhaps surprisingly, it often has. I spent the first decade of my practice in the law firm world; however, and am glad to leave its particular commercial demands behind.
How did you first learn about humanism?
Humanism, as a particular movement and ideology, is not something I had encountered much, at least directly, before this point in my life. However, I have come to recognize humanist ideas everywhere in the worlds of philosophy and science, and so they're no strangers to me. Our politics and law could stand a similar dose of reason, science and respect for our common humanity.
Did you grow up in a religious tradition?
I didn't grow up in a household with any kind of religious (or anti-religious) tradition. I grew up in a family in which religion was simply a non-presence and a non-issue. Although I respect the rights of others to their religious traditions, I think the world would be a better place if that circumstance of my upbringing were the norm for a much broader swath of humanity. We all should learn to think for ourselves, beginning at a young age.
What interested you most about joining the Appignani Humanist Legal Center?
The opportunity to join the Appignani Humanist Legal Center as its legal coordinator appealed to me as a way to get involved in the fight to defend the separation of church of state and the rights of nonbelievers. The Establishment Clause is enshrined in the very first phrase of the first sentence of the First Amendment, and it merits this place of honor as one of the most important achievements of the founders of American democracy. I look forward to being even a small part of the often uphill effort to defend it.
What are some upcoming legal cases the AHLC will be working on?
The AHLC is involved in a number of ongoing cases defending the separation of church and state and the rights of nontheists. Perhaps most interesting is a recent lawsuit filed on behalf of the AHA to challenge a Massachusetts law requiring the recitation of the Pledge of Allegiance (including the phrase "under God") in its public schools. Although this is not a new issue in recent years, the lawsuit provides an interesting legal twist: the challenge focuses on the Pledge as a violation of the Equal Protection Clause rather than just of the Establishment Clause. The Equal Protection Clause, part of the Fourteenth Amendment, prohibits states from denying "to any person within [their] jurisdiction the equal protection of the laws," and the lawsuit advances the claim that recitation of a pledge with a religious element discriminates against humanists. This is a fairly novel legal theory and it will be fascinating to see how the courts hearing the case respond.
Have you read any good books lately?
I usually read history and other nonfiction, but I really enjoyed David Mitchell's recent novel The Thousand Autumns of Jacob de Zoet which tells a story of corruption and cultural encounter set in a tiny Dutch outpost in the otherwise closed-to-foreigners Japan of the turn of the nineteenth century.
If you could have dinner with any three people (living or dead), who would they be?
Thomas Jefferson, James Madison and John Adams. No, wait, maybe Alexander Ovechkin, John Riggins and … oh, it's hard to decide!
http://www.americanhumanist.org/HNN/details/2011-01-staff-profile-bill-burgess-legal-coordinator
https://www.facebook.com/AmericanHumanist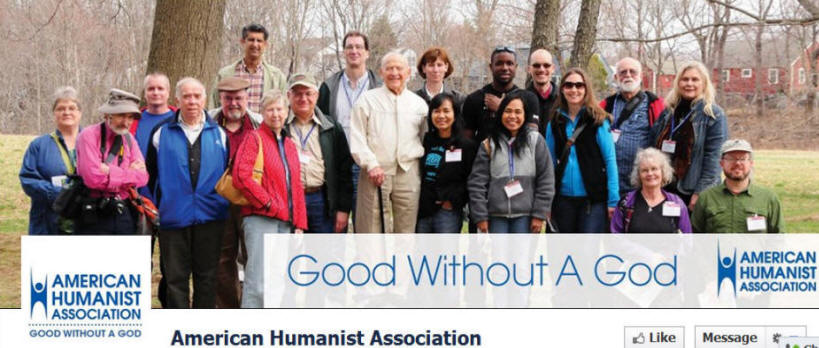 And In Hell (They) Lifted Up Their Eyes