Fore Note: Tim Berry is a former, long time teacher and administrator in Loudon County.
South-Doyle High School administrators placed on leave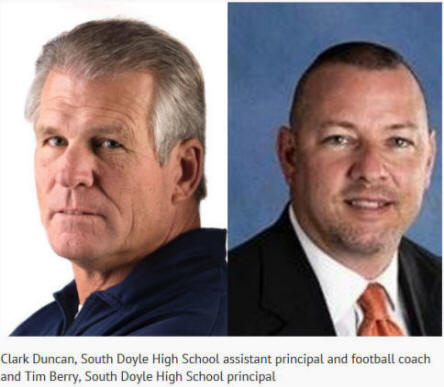 The top administrators of South-Doyle High School were placed on administrative leave with pay this week, a school spokesman confirmed on Wednesday.
School principal Tim Berry and assistant principal Clark Duncan were both placed on leave on Monday, "pending further investigation into allegations of failure to perform essential responsibilities and duties associated" with their administrative positions, said Melissa Tindell, a spokeswoman for Knox County Schools.
Tindell said she could not elaborate any further on the allegations.
Berry, who has been with the school system since July 2011, has a salary of $102,690.
Duncan, who also serves as the athletic director at the school and head football coach, has been with the school system since August 1981 and has a salary of $86,641.
Tindell said assistant principal Sherry Smith has taken over the administrative duties in Berry and Duncan's absence.