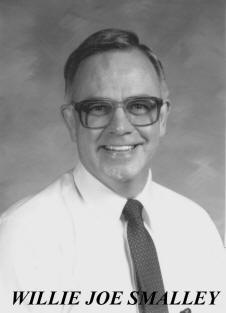 Willie Joe Smalley - age 80 of Lenoir City, passed away Sunday morning, June 3, 2012.
He was born November 9, 1931 in Grand Junction, Tennessee to the late Walter E. and Edith Mitchell Smalley. He graduated from Lenoir City High School, attended North Carolina State University, transferred and graduated from Tennessee Technological University.
He became a high school mathematics teacher and coach of all sports at Sunbright High School before returning to Lenoir City in 1957 where he taught mathematics until his retirement in 1989. He was assistant coach to the 1958 State Champion basketball team before becoming Head Coach, taking his 1964 team to the State Tournament. During his tenure as head coach from 1960 to 1980 he compiled a win-loss record of 382-216. He was inducted to the Lenoir City Sports Hall of Fame in 2003.
Willie Joe was an active member and served many positions at Trinity United Methodist Church. He leaves a legacy of sportsmanship, fair play, and generosity of time and talents.
He was preceded in death by his parents and brothers, Mitchell Smalley and Rev. Walter Smalley.
He is survived by his sisters, Helen Smith and husband, Charles of Wilmington, NC and Edith Ward of Lakeland, FL; sister-in-law, Betty Smalley of Lenoir City; nieces and nephews and their families: Patricia Reiter (Wellington) of Phoenix, AZ, Walter Smalley (Louise) of Nashville, David Smalley (Bettina) of Norcross, GA, Valerie Moore (Doyle) of Ft. Lauderdale, FL, Steve Ward of Bradenton, FL, Derek Smith (Barbara) of Easton, PA, and Laura Caulder (Jay) of Johns Island, SC.
Friends may call at their convenience on Tuesday, June 5th at Click Funeral Home in Lenoir City.
Burial will be at Grand Junction Cemetery in Grand Junction, TN, Thursday, June 7, 2012 at 10:30 a.m. cst.
A memorial celebration of his life will be held at 11 a.m. Saturday, June 9th, at Trinity United Methodist Church, Lenoir City with Rev. Kimberly Isley officiating. Reception with family will follow.
In lieu of flowers, memorials may be made to the Trinity United Methodist Church, P O Box 606, Lenoir City, TN 37771, the March of Dimes or the charity of your choice.
Click Funeral Home Lenoir City is in charge of arrangements.