Seniors maintain independence at Loudon County assisted living facility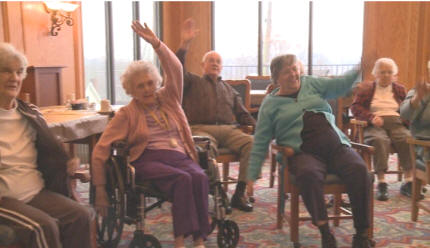 LENOIR CITY, Tenn. (WVLT) --
Making the transition from independent to assisted living can be tough for everyone involved. An assisted living facility in Lenoir City is making the move a little easier.
Originally from Pittsburgh, Julia Fowle was never ready for that move.
"Every time I would come to visit my daughter here (Tennessee), I'd come here and I would say no, I'm not ready, I'm not ready," says Fowle.
Until she wasn't given a choice.
Fowle says, "I called my Yellow Cab friend, he took me to the hospital and the nurse called my daughter and said why is your mother going to the hospital with a cab driver and my daughter decided that was it and that's why I came."
Now after three years at River Oaks Place, she has adjusted nicely.
"I particularly like the dancing part, in fact I hurt my knee by doing that and at my age, I shouldn't be swinging my legs around, but you feel so happy here you'll do all those things," Fowle laughs.
Nancy Gossage is a self-proclaimed 'old timer' who's lived at the facility for nine years.
"It was one of the best decisions I have ever made in my life," Gossage says.
Marketing manager of the facility, Shana Robertson says, "A resident can come and receive their room which is typically a private room, three meals, activities, snacks, house keeping, routine maintenance, as well as any personal care they're going to need which means medication management, help with bathing, dressing, grooming, mobility."
Independent and assisted living options are available, plus a dementia care program.
Residents can also participate in Bingo, scrapbooking, wine and cheese socials and various other activities.