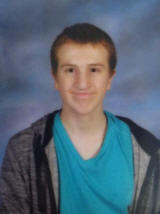 LENOIR CITY (WATE) - The search for a missing Loudon County teenager has ended in a tragedy.
After several hours of searching for 15-year-old Colt Jones, police say they found the teenager dead of an apparent suicide.
Officials told 6 News, Jones wandered into the woods behind his house on Friday around 6:30 last night on the 9000 block of Highway 11. He was reported missing Saturday around two in the morning.
A command center was set-up at Cedar Hill Golf Course by Highway 11, and a full scale search was launched.
---
Body of missing teen found
LOUDON COUNTY, Tenn. (WVLT)- A sad end in the search for a missing Lenior City teen.
Investigators with the sheriff's office confirm that 15 year-old Colt Jones's body was found not far from his home.
The teen's parents say he ran off Friday evening after a fight with them.
As many as 40 people spent the day searching for Jones, covering a roughly four square mile area near Highway 11 and Muddy Creek Road.
Foul play is not suspected. His body was taken to UT Medical Center for an autopsy.
---
Loudon County ends search for missing teen
WBIR-Loudon County authorities ended the search for a missing teen on Saturday night after they found his body.

Loudon County Deputy Chief Jimmy Davis confirmed Colt Jones, 15, took his own life.

Loudon County authorities began searching for the Lenior City High School sophomore at 2:00 a.m. Saturday morning after his family reported him missing on Friday at 6:00 p.m.

The search continued until late this evening until authorities found Jones' body.

10News normally does not report on suicides, but because of the massive search and the number of calls we received, we wanted to pass along the latest development.