Saved by the headboard: a Greenback woman escapes crushed home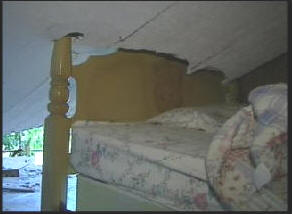 GREENBACK, Tenn. (WVLT) -- A Greenback family is thankful after surviving the tornado that crushed their home.
"I got up and I heard this awful sound, and I thought, this isn't normal," said Dereck Blair.
Blair heard the storm, and rushed to check on family next door on Cannon Road. That's when he saw a tree had destroyed their home, and trapped grandmother 78-year-old Evelyn Whitehead inside.
"The ceiling caved in 18 inches from her, and she's just laying there in bed. I told her, just lay real still and helps on the way," said Dereck.
Greenback Fire Chief Ronnie Lett got the call, "Said we had a lady, still in the house, tree was on the house."
Lett arrived minutes later, and pulled Whitehead from the rubble, completely unharmed.
The tree toppled the roof, knocking this exterior wall horizontal. The only thing holding the roof up? The headboard of the bed where Whitehead slept.
"She's lucky. The only thing that saved her life was the bed posts were sticking up about two-foot above her bed," said Blair.
"It's like somebody went in there and built a tent on top of her bed. It's unreal in there," said Lett.
Blair has started to move fallen limbs, and linemen are working to restore power. The house is a loss.
"I know it was a tornado," said Blair. "I never would have thought I'd experience this in my life. Especially in East Tennessee like this," especially on April 25, also Whitehead's birthday.
"It was her birthday, bless her heart. Today's her birthday so this was a terrible birthday present for her."
Now Blair says the family is thanking God that she's okay. "It's a blessing from God that she's still alive," he said.
"There's no other explanation for that. That was God's work in there last night," said Lett.
Whitehead was taken to a Maryville hospital for a checkup last night, but is now home recovering. The family is waiting for insurance adjusters to inspect the property this week.