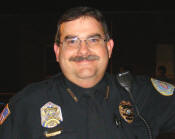 Jonathan Sartin - age 48 of Lenoir City passed away suddenly Monday morning, April 29, 2013. Jonathan graduated from Lenoir City High School in 1982 and began his law enforcement career.
Jonathan worked as a part time deputy for the Loudon County Sheriff's Office for approximately four years until he was hired by the Lenoir City Police Department in 1988 as a patrol officer. He remained in that position until 1992 when he become the K-9 handler for LCPD. Jonathan was promoted to the position of detective in 1997 where he remained for sixteen years.
He served Loudon County in many secondary duties over his career. He worked as part time dispatcher for Loudon County 911, an E.M.T. with Loudon County EMS and a volunteer with the Loudon County Rescue Squad. Jonathan was also a long time member of the Fraternal Order of Police Lodge #21.
He had a passion for youth sports, serving as the Lenoir City Youth Baseball Commissioner for the past ten years and an umpire for approximately twenty years. Jonathan also worked with TSSAA as a referee for football.
Preceded in death by his parents, Joe and Louise Sartin. Survived by his fiancee, Tina Howard; children: Eric Gibson and wife, Allison of Athens, Jon Sartin, Mary Kathleen Sartin, Carilyn Sartin, Lynsi Bolling and husband, Brenton, Jake Curtis and wife, Melinda all of Lenoir City; grandchildren: Lynzie Gibson, James Mincey, Lily Mincey, Noah Sartin, Rylee Bolling, Nathan Curtis and Maycee Bolling; brother, Keith Sartin and wife, Terrina; sister, Sonjia Wallace and husband, Joseph all of Lenoir City; nephews, Josh Wallace and Ethan Howard; nieces Rachel Long, Sierra Sartin and Jami Howard.
The family will receive friends from 4 to 7 p.m. Thursday at the First Baptist Church in Lenoir City. Funeral services will follow at 7 p.m. with Rev. Dudley Evans and Rev. Mike Thrasher officiating. Family and friends will gather at the funeral home by 10:30 Friday morning and proceed to Loudon Co. Memorial Gardens for graveside services at 11 a.m.
Serving as pallbearers: James Webb, Boomer Melton, Ethan Howard, Rick Harvey, Nick Perry, Jack Fine, Mike Tinnell, Gil Morgan, Scott Brewster, Dennis Guider, and Steve Cook.
In lieu of flowers, memorials may be made to the National Law Enforcement Office Memorial Fund. www.nleomf.com
Click Funeral Home, Lenoir City is in charge of arrangements.