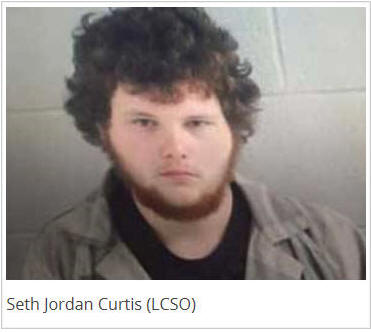 LOUDON (WATE) – Deputies from Knox and Loudon counties were able to arrest a robbery suspect after he crashed his car.
The Knoxville Police Department says the incident started around 9:25 a.m. Wednesday when they were called to an armed robbery at Admiral Wine and Spirits, 2081 Willow Loop Way. The description of the vehicle, a white Hyundai Elantra with a temporary tag, matched the description from a February 14 robbery at Taco Bell on Walbrook Drive. The suspects robbed the business as well as a customer.
Knox County Sheriff's Office deputies spotted the car fleeing on Northshore Drive. The deputy tried to stop the car, but the driver did not stop. One of three people in the car bailed out near a convenience store on Choto Road. That person, a male suspect, was taken into custody.
The two remaining suspects continued to flee until crashing on Martel Road in Loudon County. The male suspect, identified as Seth Jordan Curtis by Loudon County Sheriff's Office, ran off but was captured in nearby woods.
The woman was trapped in the car and had to be freed by first responders. She was taken to UT Medical Center with non-life threatening injuries. Martel Road was closed while deputies investigated the wreck.
Charges are expected to be filed on both male suspects later on Wednesday