Rick Terry for a Cure carries on tradition
Tammy Cheek farragutpress.com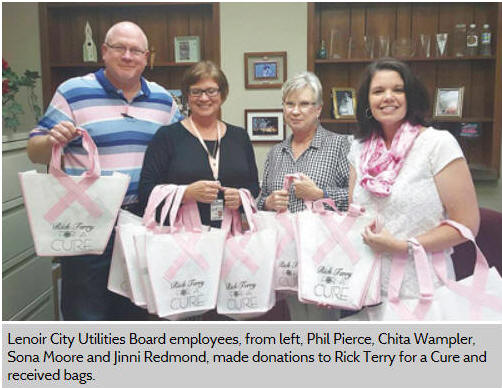 A breast cancer awareness campaign started two years ago has become a successful tradition at Rick Terry Jewelry Designs.

Customers joined Rick Terry Jewelry Designs in helping to meet the stores' goal and raise $7,500 this year through Rick Terry for a Cure campaign.

The store has locations at 11320 Kingston Pike in Farragut Town Square shopping center, Farragut; 131 Kelsey Lane, Lenoir City; and 618 Gay St., Knoxville. As part of that campaign, Rick Terry, owner of Rick Terry Jewelry Designs, said he and his staff put together gift bags filled with jewelry and other items, from which the proceeds went to the Susan G. Komen Breast Cancer Foundation of Knoxville. The event started Oct. 1 and ended when Rick Terry Jewelry Designs gave away its last bag Thursday, Oct. 8.
"We are absolutely awestruck at the generosity of our devoted customers and how excited they are to join us in the fight and help eradicate breast cancer, a life-threatening disease that affects so many we love," Terry said.

The campaign started in 2013.

"So many of our families and friends had been affected by breast cancer that we decided to do a really unique and exciting fundraiser for breast cancer awareness called Rick Terry for a Cure," he said. "We put together 200 gift bags, which consisted of a pearl bracelet, sterling pink stone earrings, compact mirror, silver polishing cloth, free watch battery card and more.

The store staff also partnered with jewelry vendors and local businesses for grand prizes.

"As an incentive and a thank you, we gave customers one of our goodie bags when they donated $25 to Rick Terry for a Cure at one of our three locations."

By the end of October 2013, Terry said the store raised $5,000, all of which were given to the foundation.

"Because of the campaign's success, and at the urging of our customers, last year we repeated our campaign," he said. "We followed the same idea, giving bags filled with jewelry items and various gifts and, as well, having three grand prizes."

"We were once again amazed at our customer support and excitement to join us in this cause and, by Oct. 30, 2014, we had raised $7,000 for the Susan G. Komen Breast Cancer Foundation of Knoxville," he said.

"This year we wanted to make our bags and grand prizes better than ever," Terry said. "We made 250 goodie bags, which included Southern Gates sterling silver earrings, a hand-knotted freshwater pearl necklace, a pink ribbon scarf, jewelry cleaner and more.

"Again, we partnered with area businesses and our vendors to help us make our three grand prizes as fabulous as possible," he said.

"Our goal for 2015 increased from our first year's goal of $5,000. to now raising $7,500," he said. "Our wonderful customers jumped in again this year and joined us in this fight."

This year, the store again started the campaign Oct. 1, and within a week it achieved its goal, he said.

"This phase of Rick Terry for a Cure 2015 is done, but we are continuing on," Terry said. Rick Terry Jewelry Designs will have a team in the Susan G. Komen Race for a Cure, which takes place 8:30 a.m., Friday, Oct. 24, at the World's Fair Park in Knoxville.

"Join us, if you will, because together we can make a difference," he said.