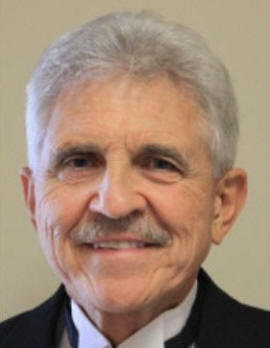 Dr. Thomas Rankin "Ric" Best - age 71 of Lenoir City, passed away Saturday afternoon, December 16th, 2017 in his home surrounded by his loving family.

Ric held a Doctorate from U. T. Knoxville and was a music educator with a career spanning 45 years. He served as director of bands and choral activities with Cocke County Schools from 1968 - 1971, Lenoir City Schools from 1972 - 1998, and the University of Tennessee Chattanooga from 1998 - 2000. He was appointed conductor and director of music… for the Tennessee Wind Symphony in 2001 and twice conducted them at Carnegie Hall. He held leadership positions with numerous professional organizations and was especially proud to have served on the Loudon County Board of Education and the Lenoir City Rotary Club. He was a devoted member of Central United Methodist Church where he was very active in the music department and handbell choir. Ric won numerous awards during his career and amongst those most dear to him were : being twice named a Sudler Laureate for international contributions to education; being selected as a member of the John Philip Sousa Legion of Honor for being one of the year's top 10 wind band conductors in the United States; being selected to 5 halls of fame; and most recently he was named the most Outstanding Person of the Year in Loudon County.

He was preceded in death by his parents, Sam and Katherine Best. He is survived by his wife of 31 years, Melissa Smith Best; sons and daughters-in-law, Dr. Thomas Best Jr. and Erica Mayer of Sarasota, FL, Christopher and Lydia Best of Lenoir City; brother and sister-in-law, David and Pat Best of Clearwater, FL; brother-in-law and sister-in-law, Mark and Teresa Smith of Knoxville; several nieces and nephews; special cousin, Dr. Chris Sawyer of Maryville; special family member, Elaine Gentry of Knoxville.

The family will receive friends from 3-7 p.m. Tuesday, December 19th at Central United Methodist Church in Lenoir City. Funeral services will follow at 7 p.m. with Rev. Dr. Scott Layer officiating. Family and friends will gather at the funeral home by 9:30 Wednesday morning and proceed to Loudon County Memorial Gardens for 10 a.m. graveside services.

Serving as pallbearers will be: Tony D`Andrea, Jack Atkins, Dr. Chris Sawyer, Roy Holder, Dr. John Culvahouse, Benton Stewart, Dr. Trevor Smith, and Jim Idol. Honorary pallbearers will be: Millard and Sue Wilkerson, Dr. Joe Allison, and Dr. Jason Vance. In lieu of flowers, memorial contributions may be made to the Central United Methodist Church Music Department. Click Funeral Home in Lenoir City is in charge of arrangements.