In battle retreat means, fall back, take cover, let's get out of here. In government, retreat has an entirely different meaning, free vacation.

I served on the county school board for four years and every year after the first of the year, you could set your clock on it, that several board members would start calling for a retreat. What this really meant was, let's go to Gatlinburg and spend a few days and let the tax payers pay for it. For the four years I was on the board, we had no out of town retreats.

Those board members who are so gung-ho on the tax payer funded junket will claim they're going on the trip to discuss very important issues facing the school board. That may well be true. But could somebody please explain to me why the board needs to go to Gatlinburg to discuss very important issues facing the school board? Is there some reason they can't discuss important issues here in Loudon County

You might even say, what's the big deal. A few school board members going to Gatlinburg for a couple of days, how much could that cost? Unfortunately, it's not just a few board members who get invited on the road trip. It's board members and spouses and maybe parents this year, principals and other administrators and their spouses. It will be a large entourage. All may not stay for the full three days but most will.

The last retreat the board went on five years ago cost the tax payers around ten thousand dollars which in a forty million dollar budget doesn't amount to a lot. But it seems to send the message to the tax payers that elected officials priorities are a way off. This year's retreat will be held at the Clarion Inn & Suites in Gatlinburg.

I for one can't see any reason board members need to travel out of Loudon County to discuss issues pertaining to Loudon County. I can't imagine any topic the board couldn't discuss right here in any of our local meeting locations. If they're just wanting to feel fancy, why don't they just hold their meeting in one of the hotel conference rooms here in the county?

The sad truth of the matter is, there is no logical or rational reason for a bunch of local elected officials and others to just throw away thousands of dollars from an education budget when we're always being told that there's just not enough money for education. Here's a thought. If board members really do feel so strongly that a Gatlinburg retreat is so necessary, maybe they could pay their own way. It's not as though they don't get paid for their service on the board.

On the lighter side, the photograph below is just a dramatization but it depicts what your tax dollars could be paying for.

V
V
V
V
V
V
V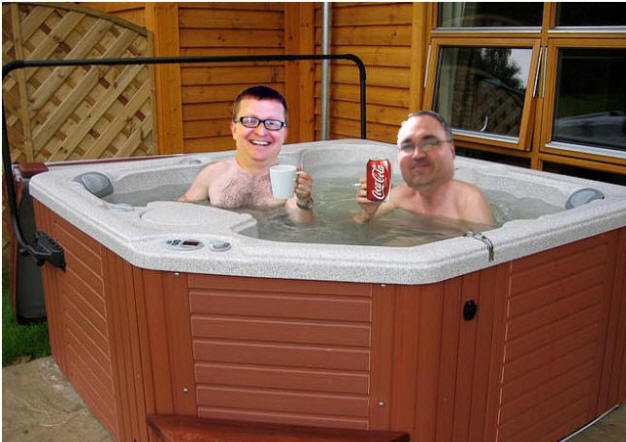 Is this what you wanted SN?