Relay For Life of Loudon County 2012
Will Hold Kickoff Rally on Sunday, October 30, 2011
at Angelo's Brick Oven 2pm – 4pm

<![if !vml]>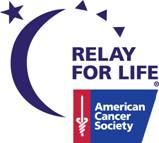 <![endif]>
On Sunday, October 30, 2011, the American Cancer Society Relay For Life® of Loudon County will officially get underway as event volunteers and participants gather at Angelo's Brick Oven for a kickoff rally to launch their fundraising efforts for 2012. Lunch will be provided by Angelo's with Spaghetti and Salad on the menu and Tea and Water to drink. Come dressed in your favorite Halloween costume. Also, Halloween treat bags will be provided for children. Niki Langley, a cancer survivor, will be the featured speaker. This also will be the first opportunity to register a team and to discuss the events to be held on May 4, 2012 at the Tate & Lyle Performing Arts Center Amphitheater at Loudon Municipal Park in Loudon, TN.
WHEN – May 4, 2012 at 6:00pm
WHERE – Tate & Lyle Performing Arts Center Amphitheater at Loudon Municipal Park in Loudon, TN
The world's largest grassroots fundraising movement, Relay For Life mobilizes communities throughout the country to celebrate people who have battled cancer, remember loved ones lost, and provide participants with an opportunity to fight back against the disease. Relay brings together friends, families, businesses, hospitals, schools, faith-based groups . . . people from all walks of life – all aimed at furthering the American Cancer Society's vision of creating a world with less cancer and more birthdays.
Relay For Life began in 1985 with one man who walked and ran around a track for 24 hours and raised $27,000 for the American Cancer Society. This year, Relay For Life will take place in nearly 5,100 communities in the United States and 20 other countries and will raise funds to support the Society's mission of saving lives by helping people stay well, by helping people get well, by finding cures and fighting back.
To join a Relay For Life team, make a donation, or if you have a question, please check out www.relayforlife.org/loudon or contact Kim Ebeling, Event Chair at kimebeling@yahoo.com or Chris McConkey, Online Chair at mcconkeyc@yahoo.com .