Like many of you that grew up here, one of my fondest childhood memories was going to the park at the lake and feeding the ducks.

My dad worked six and seven days a week and didn't have a lot of spare time for family outings. But when he did have a rare break he would always make every effort to do something with his kids that we enjoyed. Going to the park was one of the favorites. We would grab a loaf of bread and maybe an old bag of potato chips and go feed the ducks.

Alas, how things have changed. With the addition of grand children to our lives, we now find it necessary to go to the park from time to time. Unlike fifty years ago, the park is now equipped with some great playground activities, slides, swings, ladders and all kinds of kid friendly play stuff. And the ducks are still there too.

Imagine my surprise on my first trip to the park with the grand babies. The sign said, "For The "Health Of The Environment" Please Use Provided Feeders." Another sign said, "Bread Kills Waterfowl." It appears you can no longer feed the ducks at Lenoir City Park unless you pay 25¢ for a small handful of "environmentally friendly" duck food.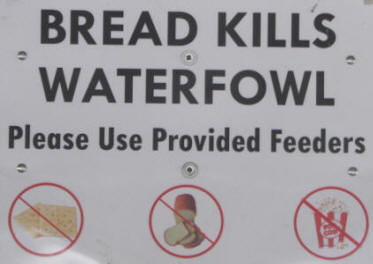 Like any good researcher, I came home to read up on ducks and bread. Sure enough, most the information on the subject does say that bread and other "junk foods" are bad for the ducks. I'm sure some duck experts have done their research to determine the danger of bread for the ducks. But I've got a little research of my own.
PEOPLE HAVE BEEN FEEDING THE PARK DUCKS BREAD FOR AT LEAST FIFTY YEARS AND THEIR STILL THERE.
Surely, some of those ducks at the park now, are probably great, great grand ducks of the very ducks I feed all those years ago. Maybe not, who really knows.
City Park is a great place to take the kids and grand kids despite the bread ban but if you are going to feed the ducks, you must be prepared to violate the "no bread for ducks order" or take a pocket full of quarters. One quarter's worth of duck pellets doesn't go very far.