Put The Rumors To Bed, He's Running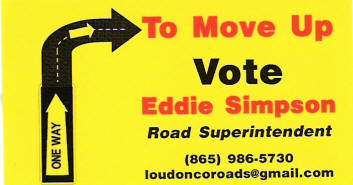 Rumors have been flying around pertaining to the next Lenoir City election in November that Brookshire was not going to run for reelection. But according to the little cards scattered all around city hall, the rumors were wrong. This will be Brookshire's fourth run for the Mayor's office.
Brookshire first came to power in 2001 after defeating twenty-five year incumbent mayor, the late Charles Eblen. In 2003 Brookshire ran for reelection and defeated challenger, John Roberts. Then in 2004, Brookshire and council engineered a bit of a coup d'etat when they were able to slip a charter change on the November ballot that effectively extended the term of mayor and council by nineteen months unbeknownst to most voters. Brookshire's next reelection bid came in November of 2006 where he faced a politically unknown candidate, Kelly Watkins who came within 344 votes of defeating him.

No one else has yet announced their intentions to run for mayor, but again there have been several names bouncing around as possible candidates who may oppose Brookshire in November. One can only hope.
BACK
4/30/08