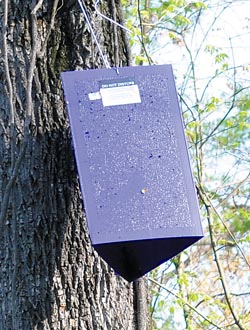 State and federal agricultural officials have hung approximately 4,500 purple box traps in a 50-mile radius of Knox County to survey the recent invasion of a nonnative beetle that has killed tens of millions of ash trees in the eastern U.S. and Canada.
The purple color is believed to attract the emerald ash borer, and the traps also are baited with a chemical lure that simulates a distressed ash tree.
Gray Haun, plant certification administrator for the Tennessee Department of Agriculture, said the traps help determine the beetle's range.
"Trapping is an important tool for us to know how extensive the infestation is and whether additional control measures are needed to slow it from spreading to new areas," said Haun.
The triangular traps are hung in trees and coated with an adhesive that captures the beetles when they land. The glue on the purple traps is nontoxic and isn't harmful to people or pets, Haun said.
The emerald ash borer was discovered locally last summer in an ash tree at a truck stop off Interstate 40 near the Knox-Loudon county line. Tennessee marks the southernmost spread of the beetle that most likely arrived in the U.S. inside wood packing material from Asia.
The adult emerald ash borer lays its eggs on the ash tree, and the larvae burrow beneath the bark, inscribing tunnels that kill the tree in about three years by cutting off the flow of water and nutrients.
Because the borers often are transported on firewood, state agriculture officials are urging area residents to buy local firewood that has been cut in the same area where it will be burned.
Knox and Loudon counties currently are under a state and federal emerald ash borer quarantine that prohibits the movement of hardwood firewood, ash logs, ash seedlings, ash bark and other regulated articles outside the counties or outside the state without a certification.
Officials are asking property owners not to disturb the purple traps and to notify them if the traps get damaged or are found on the ground. To report a trap that is down, contact the national emerald ash borer hot line at 866-322-4512, or visit http://www.purpleEABsurvey.info.
So far the Great Smoky Mountains National Park has not been infested with the borer. In an attempt to thwart an infestation, the park prohibits campers from bringing in firewood from the 15 states (plus Knox and Loudon counties) that have been hit with the emerald ash borer.
This spring the Smokies has added 20 new traps to those already out in the field. The traps are placed around campgrounds and picnic areas where visitors are most likely to bring in firewood. They will be checked periodically by volunteers with the park's Citizen Scientists program, who also have been trained to check for thousand cankers disease, a recently arrived fungus that is carried by a specific beetle and kills black walnut trees.