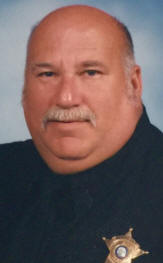 Larry Paul Proaps - age 66 of Lenoir City passed away Sunday afternoon, October 18, 2015 at his home after an extended illness. Larry was retired from the Loudon County Sheriff's Office after 31 years of service. He served in the National Guard. Larry was a school resource officer and also served on the Loudon County School Board. He was a member of Central United Methodist Church. Larry touched many lives over the years and helped many more. He was full of stories and jokes all the while sharing his life.

Preceded in death by his parents, Paul and Edna Proaps and sister, Peggy Watson. Survived by his wife of 29 years, Kathy Proaps; daughter and son-in-law, Ashley Kate Galyon and Joshua Galyon; step-son and daughter-in-law, Jonathan Cornwell and Kristi Cornwell; grandsons, Tyler and Jordan Galyon; sister and brother-in-law, Paula (Pod) and Allen Cathy; brother-in-law, Phil Watson; many nieces, nephews, cousins, and aunts.

The family will receive friends from 5 to 7 p.m. Thursday, October 22nd at Central United Church in Lenoir City. Funeral services will follow at 7 p.m. with Rev. Micah Nicolaus officiating.

Family and friends will gather at the funeral home by 10:30 Friday morning and proceed to the Lakeview Cemetery for 11 a.m. graveside services. Full honors will be conferred by the Loudon Co. Sheriff's Department.

In lieu of flowers, memorials may be made to Central United Methodist Church or the School Resource Officers Program.

Click Funeral Home, 109 Walnut Street, Lenoir City is in charge of arrangements.