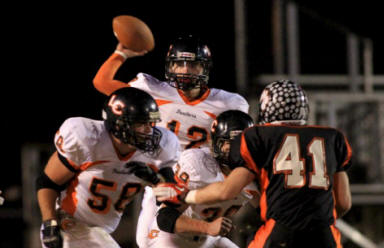 Lenoir City's Cinderella run is over. Powell's march toward a Class 5A state championship continues. But neither outcome was certain until the final seconds ticked away Friday night at Powell.

In a game marred by costly penalties and missed opportunities, Powell held off Lenoir City's second-half rally and escaped with a 34-26 win to advance to the semifinals of the state playoffs.

The Panthers (13-0) will play host to Knoxville's West High School (12-1) next week. The Rebels were a 40-14 winner Friday over Morristown West.

"I expect it to be a great game'" Powell coach Matt Lowe said of the Panthers' upcoming final four game against the Rebels. "This is the game both teams have had circled all year long. We've all kind of expected this game to happen and we're just happy to be in it."

Dy'Shawn Mobley led the Powell offense with 234 yards rushing and five touchdowns, including second-half runs from 25, 23 and 21 yards out.

His final touchdown seemingly put the game out of reach 34-18, immediately after Lenoir City failed to convert on fourth-and-eight from their own 21-yard line with 3:38 left to play.

But Lenoir City still had an answer, marching down the field one last time, driving 60 yards and scoring on Tanner Wilson's 1-yard run. Quarterback Jordan Hall connected with Camion Patrick for the 2-point conversion pass, and

Lenoir City made it a one-possession game again with 1:15 remaining.

Powell's Justin Woods covered up Lenoir City's onside kick, however, and Powell simply took a knee three times to finish out the game.

Surprisingly, it wasn't long before all the last-minute excitement that the game appeared all but over.

Trailing 21-0 midway through the third quarter, and able to produce a meager 9 yards of offense through the first 30 minutes of the contest, Lenoir City exploded for 26 points and 300 yards over the final 18 minutes.

Lenoir City quarterback Jordan Hall led the rally, going 23 of 38 through the air for 248 yards and two touchdowns.

"We really struggled early on offense and our coaches just challenged the kids at halftime to come out and execute better," said Lenoir City coach Mike Eller. "We lost a couple close games in the regular season that we could have won. But I was really proud of the way our team finished the season. They really pulled together and made it a good run."

Two Lenoir City drives were extended by roughing the passer penalties against Powell on third down incompletions. Both times Lenoir City went on to score touchdowns.

In all, Powell was called for 12 penalties covering 115 yards on the night.

"Those penalties really hurt us tonight, and that's something we've got to get under control," said Lowe. "You never want to take away from your players' aggressiveness. But we've got to be smarter than that, and that will become more and more important as we move on in the playoffs."