Police: Man arrested after trying to meet homicide victim's family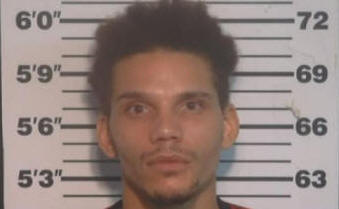 SWEETWATER, Tenn. (WVLT) -- A man was arrested after Sweetwater police say he tried to meet the family of a slain mother of four from Loudon.
Dominick Brown was charged by Sweetwater Police with manufacture, delivery, sell or possession of methamphetamine, possessing a firearm during commission of dangerous felony, and simple possession/casual exchange of marijuana stemming from an incident Monday.
The Knoxville Police Department recently considered Brown a person of interest in the shooting death of Kayla Viars. The 27-year-old mother was pronounced dead on January 1 after investigators say she was dropped off at the East Tennessee Children's Hospital with gunshot wounds.
Viars mother, Becky Viars said Brown had planned to meet with her and other members of the Viars family. She said that Brown wanted to explain the final hours of Kayla's life. The meeting was supposed to be at the Sweetwater Dinner Bell.
"We met at the Dinner Bell in Sweetwater and the police was there , so he didn't want to meet there," said Viars.
Viars explained that a few officers were having dinner and noticed Brown. She told Local 8 News that Brown asked the family to meet him at a nearby McDonald's.
After receiving a tip about the meeting and hearing there would also be a shooting, Sweetwater Police responded to the McDonald's on Highway 68 at 7:06 p.m.
When officers arrived on scene, they noticed Lenning Huerta, someone sources say spent significant time around Brown.
Authorities said they stopped to speak with Huerta while someone warned Brown that the police were present. Several witnesses told investigators Brown pulled a handgun out of his waistband and placed it on the floor under a booth in the restaurant then exited the McDonald's.
While officers were questioning Brown, a woman came out of the restaurant and told officers Brown placed a gun on the floor near her child. Officers later retrieved the weapon, a Glock 43, .9 millimeter, in Brown's vehicle.
A Monroe County K-9 continued to search the car and alerted officers of 1.19 ounces of methamphetamine and marijuana. According to a police report, Brown claimed ownership of all of the drugs.
Viars said she is not sure of Brown's intentions with the meeting.
"I feel he came to harm me or my son or both. I don't know he had a gun, one in the chamber and in his pocket. In my mind, he's just as guilty and needs to be in jail with the one who pulled the trigger," Viars told Local 8 News Reporter David Ball.
Brown was transported to the Monroe County Sheriff's Department without incident. Huerta was taken into custody on outstanding warrants out of Loudon County.