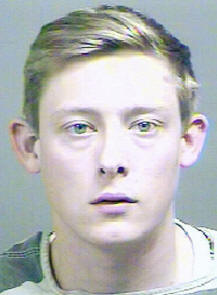 Greenback man was arrested early Friday morning after reportedly assaulting another man with a baseball bat.
Coleman Alexander McJunkins, 21, Pine Street, Greenback, was arrested by Maryville Police officers at around 4 a.m. Friday on a charge of aggravated assault. He was released on $2,500 bond pending a 9 a.m. Tuesday hearing in Blount County General Sessions Court.
Maryville Police responded to a residence in the 100 block of Park Drive in Greenback at 3:50 a.m. Friday to a report of a disturbance.

When officers arrived, they found a 22-year-old Townsend man standing in the street, according to a police report. Officers noted that the man was bleeding from his face and head, and had several lacerations on both areas. His face was also bruised and swollen, the report said.

Rural/Metro Ambulance Service personnel responded and transported the man to Blount Memorial Hospital. Hospital staff said he was treated and released.

A 21-year-old woman who lives at the Park Drive residence told officers that the 22-year-old Townsend man was her ex-boyfriend. She said he showed up at the residence and he and McJunkins got into an argument before the two started fighting, the report said.

Additional witnesses told officers they heard the two men arguing before McJunkins took out a red baseball bat and threatened to use it on the other man, the report said. The witnesses said McJunkins then attacked the Townsend man with the bat.

Officers took the 30-inch baseball bat as evidence, and arrested McJunkins on a charge of aggravated assault.

McJunkins was booked into the Blount County jail Friday at 4:16 a.m., according to jail records, and released nearly seven hours later on $2,500 bond.