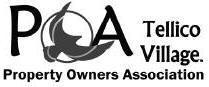 Financial Info from the TVPOA Board

There is once again misinformation about Tellico Village finances being sent via e-mail to Tellico Village residents. The e-mail contains flawed assumptions and wrong conclusions about the POA's financial situation. This problem has existed for several years. It is a detriment to the Village and a continuing distraction to Tellico Village residents and the POA.
For example, this past week representatives of a group that is planning to use the Yacht Club for an event asked if the Yacht Club was in financial danger and would it be available for their function. This is the sort of difficulty caused by false information. We have an obligation to you, the Tellico Village property owners, to make sure you have the facts to counter or ignore misinformation.

Your Tellico Village POA is in sound financial condition. As of the last week of October, we have $551,000 of operating cash and $3.6 million of reserve cash in certificates of deposit at various banks. The POA has $4.1 million in total cash. The POA also has $300,000 less in total debt now than at the time of a May 2009 newspaper article containing misleading financial information about the POA. Many companies would like to have that level of financial security behind their organizations.

Unfortunately, the property owner who composed the e-mail containing the misleading information has shared it with a newspaper again. We have done everything possible to provide the newspaper with accurate, clear and irrefutable numbers to demonstrate the inaccuracy of what its reporter has been told. However, we have no control over what the newspaper decides. What we know is that inaccurate information about Tellico Village benefits no one.

We will address the inaccurate information point by point: Delinquent Assessments: Over the past three years, the POA averages around 700 lots whose owners are delinquent in paying their assessments. These are mostly empty lots owned by a few large block property owners. This year those delinquent assessments will total approximately $793,000.
The POA keeps track of the delinquent assessments, late fees and interest owed by these property owners. Therefore, when we either settle or take the lot in foreclosure, your POA knows how much these property owners owe the POA. Significant staff and legal efforts are expended to collect these delinquent dollars. While we show these sums as potential income, they are also shown as an expense so that there is no net income assumed for delinquent accounts in the budget. The POA is actually $44,000 ahead of budgeted net assessment revenue for 2011.

Expenses and Revenue: The suggestion was made that the POA does not have the resources to cover its bills. The key element that makes this statement wrong is that it does not take into account the monthly revenue that flows into the Association. The POA has monthly expenses of approximately $1.2 million and revenue of approximately the same amount. Though we have significant normal expenses in the fourth quarter of the year, we have revenue from assessments, golf, fitness, water and sewer that cover those expenses.

Line of Credit and Cash Position: The POA borrowed from our line of credit in September to ensure our cash levels during the fourth quarter were not only adequate to cover our expenses but also to ensure a cushion for unexpected events. The $250,000 of cash borrowed from our line of credit will be paid back by the end of this year. The end of year cash projected in October of $69,000 did not include pre-paid amenities (golf, docks, recreation) revenue but did include the worst-case scenario for fourth-quarter spending. We now estimate that after paying back the line of credit of $250,000, paying all fourth-quarter bills and collecting assessment, golf and other revenues, the POA will have approximately $500,000 of operating cash at the end of the year. This is a comfortable level of cash for your POA, and we still have the reserves of $3.6 million in the bank. Total end-of-year cash is estimated to be about $4.1 million.

If you are told that the POA will have a cash shortfall by the end of 2011, ignore the doomsayers. They're wrong. We assure you that your POA is financially sound and the staff, advisory committees, and the board made up of fellow Tellico Village property owners are working hard to keep your POA financially sound. We invite all property owners to attend our finance committee meetings or our board meetings to hear first-hand the state of the POA's finances. We think you'll be pleased.

We would also like to repeat our previous announcements about the POA's cost reduction restructuring. The workforce reduction of 10 people, while regrettable, was an action similar to those being taken by organizations around the country. The country's economic situation calls for prudence and caution. But those reductions will not result in any loss in amenities or services to the property owners. Our amenities (golf, recreation, docks, Yacht Club, etc.) will see no changes in hours of operation nor services.

If you have any questions please contact the POA office or email truthbetold@tvpoa.org. Thank you for your interest in the POA and for being a member of the Tellico Village community.
Telli-Flash
Nov. 8, 2011