Philadelphia man charged with raping mentally disabled victim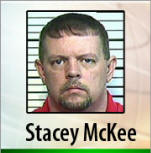 PHILADELPHIA (WATE) -- The Tennessee Bureau of Investigation arrested a Philadelphia man for raping and neglecting a mentally disabled man who was in his care for more than a year.

Stacey Allen McKee, 38, was indicted by a Monroe County grand jury on two counts of rape, two counts of aggravated sexual battery by an authority figure and one count of willful abuse or gross negligence.

Investigators say McKee was working as a host and companion for Adult Community Training when they believe the abuse occurred between 2005 and 2007.

The victim was living with McKee when the crimes were committed.

Agents with TBI's Medicaid Fraud Control Unit picked up McKee in West Knoxville's Turkey Creek area Tuesday afternoon while he was working at Dollar Tree.

McKee was booked into the Monroe County Jail on a $25,000 bond and released.